LAIKA's 'Missing Link' Brings A New Innovation That Adds More Life To Characters [Comic-Con 2018]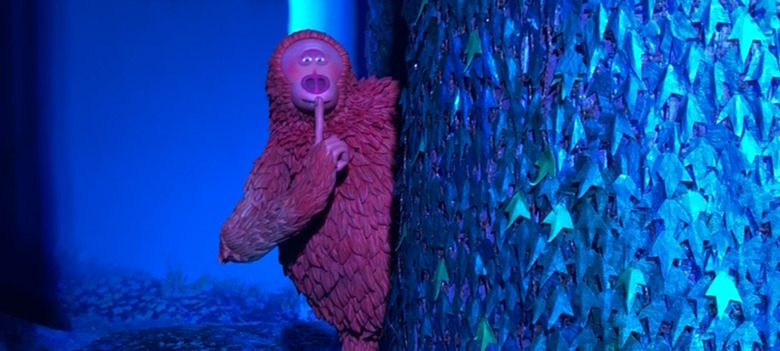 Before San Diego Comic-Con truly kicked off, the folks at LAIKA were treating San Diego to a new exhibition showcasing the incredibly hard work that goes into creating their stop-motion animated films like Coraline, ParaNorman, The Boxtrolls, and Kubo and the Two Strings. Now LAIKA is busy preparing their next movie, Missing Link, and their Comic-Con installation provided us with a fascinating new development of how they're animating their characters to give them a bit more life.
LAIKA Missing Link
For those of you who may not have heard about Missing Link yet, here's the official synopsis from LAIKA:
The charismatic Sir Lionel Frost (voiced by Hugh Jackman) considers himself to be the world's foremost investigator of myths and monsters. The trouble is none of his small-minded high-society peers seems to recognize this. Sir Lionel's last chance for acceptance by the adventuring; elite rests on traveling to America's Pacific Northwest to prove the existence of a legendary creature. A living remnant of Man's primitive ancestry. The Missing Link.
Zach Galifianakis is Mr. Link: the slightly silly, surprisingly smart and soulful beast upon whom Sir Lionel's dreams depend. As species go, he's as endangered as they get; he's the last of his kind, and he's lonely. Proposing a daring quest to seek out his rumored distant relatives, he enlists Sir Lionel's help in an odyssey around the world to find the fabled valley of Shangri-La.
LAIKA Lets Missing Link Characters Take a Breath
While checking out the Missing Link set – a gorgeous blue-tinted redwood forest with dozens of pieces of plant life (all able to be bent and manipulated for animation) surrounding a giant redwood tree – we were told about a new character element that has added another layer of life to the characters of the movie. A special apparatus has been created for the bodies of the stop-motion animation puppets that allows animators to make the characters look like they're breathing. It can fill up with air at various levels in order to make the body appear like a character is taking breaths.
This has not only added a level of realism to the impressively stylized and detailed characters, but it has also added a challenge. Animators already have to worry about every small movement that a character makes as they create their stop-motion animated movies frame-by-frame. Now in addition to walking, talking, emoting, and wielding props, they also have to keep track of their breathing.
Honestly, I can't imagine the patience these animators have as they make this movie little-by-little over the course of a few years. There are so many details to keep track of, and it sounds like quite the painstaking process.
Missing Link hits theaters on April 19, 2019.