'Titans' Trailer: Robin Says "F-- Batman" In Brutal And Bloody Introduction To DC Universe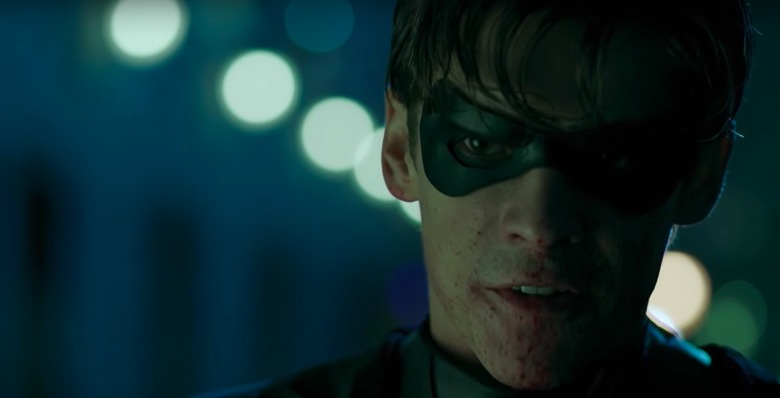 For DC Comics fans who thought the DC Extended Universe movies were not dark enough, it looks like Titans is just for you. The new series exclusively available on the DC Universe streaming service has released its first trailer, and boy it's a doozy. We're talking violence, strong language, adult content — oh and Robin (Brenton Thwaites) saying "F— Batman." So edgy.
Titans Trailer
Robin has a chip on his shoulder, and it's the fact that he will always be under the shadow of Batman. So what's a Boy Wonder to do? Apparently the answer is "go full Punisher" and start shooting criminals left and right before curb stomping one criminal's face into the ground. Yeah, Titans says, this isn't your childhood Robin. This one is gritty.
The trailer follows Teagan Croft's Raven as she seeks out Thwaites' Dick Grayson for help from her overwhelming dark powers, pushing him back into the vigilante life. We also see glimpses of Anna Diop as Starfire, firing off an energy pulse, and a couple of shots of Beast Boy (Ryan Potter) in action.
The whole trailer screams "I double marathoned Riverdale and The Punisher once and I am EXTREME." It's teen soap meets the brutal antihero violence that is so popular nowadays, all done on a television production budget. Basically, everything you want in a Teen Titans live-action remake, right? To be fair, these characters are older than the teens we're used to seeing — hence the DC Universe series dropping "Teen" from the title.
Perhaps I'm being too harsh on it and should give the series the benefit of the doubt. It's co-created by Greg Berlanti after all, who masterminded the brilliant and fun CW Arrow-verse that spawned great series like The Flash, Supergirl, and Legends of Tomorrow. Berlanti co-created this series alongside Akiva Goldsman and DC Comics stalwart Geoff Johns.
Here is the synopsis for Titans:
TITANS follows young heroes from across the DC Universe as they come of age and find belonging in a gritty take on the classic Teen Titans franchise.
Titans premieres fall 2018 on the DC Universe streaming service.