'Annabelle 3' Announced, 'Conjuring' Universe Veteran Gary Dauberman To Direct [Comic-Con 2018]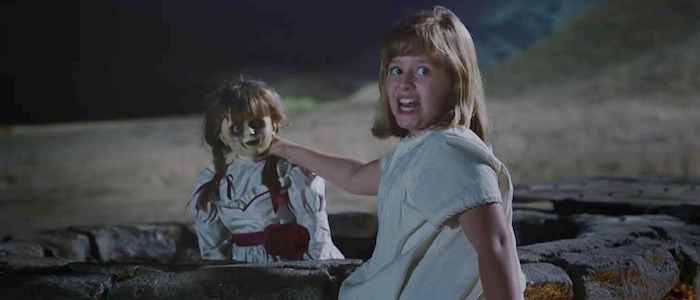 You can't keep a good killer doll down, and Annabelle is coming back for round three. First introduced in The Conjuring and given her own prequel in 2014's Annabelle and a prequel to the prequel in 2017's Annabelle Creation, the cursed doll is finally moving to the future in her third outing. And Gary Dauberman, a writer and producer with plenty of experience in bringing the Conjuring universe to life, will make his debut behind the camera.
The news was revealed at the end of Warner Bros. and New Line's ScareDiego showcase at San Diego Comic-Con International, where footage from It: Chapter 2, The Curse of La Llorona, and The Nun was screened. No release date or title was announced for Annabelle 3, but a summer 2019 opening was teased.
As horror fans may remember, Annabelle was last seen (chronologically speaking) locked in the artifact room of Ed and Lorraine Warren, the paranormal investigators at the heart of the Conjuring series. While this room seems safe enough, with a priest coming by to regularly bless the premises, the plot of Annabelle 3 will see the doll's evil infecting the other objects in the room, unleashing an army of ghosts and demons and what-not upon the household. While Ed and Lorraine were not mentioned, Dauberman noted that their daughter, seen in both Conjuring films, would be the focus of Annabelle's wrath.
This is an interesting premise for several reasons. First of all, it moves the Conjuring-verse further into the future, although it's not clear how far. Secondly, it sounds like it could have easily been the plot of The Conjuring 3 rather than Annabelle 3, which makes me wonder what New Line is planning for the third adventure of Ed and Lorraine (or if they're even planning one at all). And finally, making the focus of the film the Warrens' child suggests that the franchise could move beyond its two leads – Patrick Wilson and Vera Farmiga could retire from the universe they helped create and their offspring could carry the series into the 1980s (The Conjuring and its sequel are both period pieces set in the '70s).
But perhaps most interesting of all is Dauberman behind the camera. Dauberman has become one of New Line's number one horror guys behind the scenes – he penned Annabelle, Annabelle Creation, The Nun, It, and It: Chapter 2. Giving him control of Annabelle 3 feels like an ongoing show of faith in Dauberman from the folks at New Line and a chance for him to have an even bigger voice in the franchise going forward.