'A Quiet Place' Honest Trailer: A Horror Movie That's Every Dad's Paradise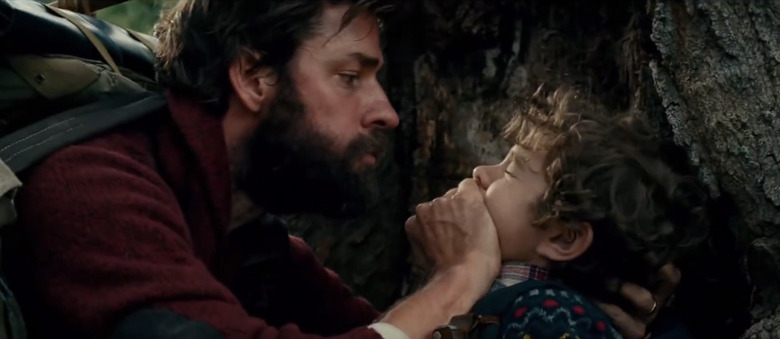 A Quiet Place is a certified hit. The movie that started off as another possible Cloverfield anthology film turned into one of the biggest successes of the spring. Now that it's available on home video, an Honest Trailer can dive into every single near soundless frame of the movie that, on one hand, depicts a terrifying dystopian world, but on another, has inadvertently created a father's paradise for John Krasinski. Because where can you demand quiet all the time, go fishing and keep your kids from watching all your televisions.
Watch the A Quiet Place Honest Trailer
Of course, it wouldn't be an Honest Trailer if there wasn't at least one nitpick about the movie itself. In this case, the all-knowing voiceover guy wonders why John Krasinski's family doesn't just live next to the waterfall if it drowns out sound so well (no pun intended). The easy answer is that the terrain surrounding the waterfall isn't exactly conducive to their lifestyle needs, but it's a fair point to be made.
Besides that, it's hard to mock much about such an impressively, meticulously crafted sci-fi horror thriller. It features truly scary creatures, plenty of suspense, and some outstanding performances from both real-life couple John Krasinski and Emily Blunt, as well as all of their kids. It makes us wonder where a follow-up film will take the surviving characters and how encounters with these sound sensitive creatures will evolve in the sequel that is already in the works over at Paramount Pictures.