Why Jeremy Renner Isn't In 'Mission: Impossible - Fallout'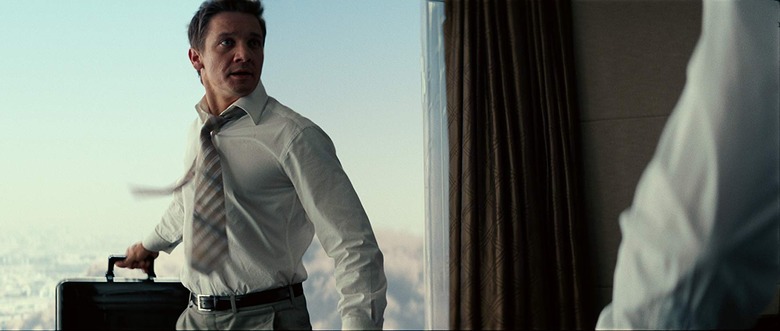 Two of the biggest blockbusters of this summer have one actor who is conspicuously absent — and it happens to be the same person. After the resounding echoes of "Where is Hawkeye?" died off following the release of Avengers: Infinity War, Jeremy Renner finds himself missing from yet another tentpole sequel: Mission: Impossible – Fallout. And now writer/director Christopher McQuarrie has finally revealed why we won't see Jeremy Renner in Mission Impossible Fallout.
Fallout sees Ethan Hunt getting the old team back together, with franchise familiar faces Simon Pegg, Rebecca Ferguson, Ving Rhames, Michelle Monaghan, and Alec Baldwin reprising their roles in the sequel helmed by McQuarrie, also making history as the first director to return to the series. (Sean Harris's villain, Solomon Kane, is back for more, too.) But one face is noticeably missing from the intense stare-offs in the posters and teasers for the film: Jeremy Renner. After appearing in the last two films, Ghost Protocol and Rogue Nation, Renner was nowhere to be seen in the latest Mission: Impossible film, though we knew he would not appear from early reports. At first there seemed to be an easy explanation with Renner's commitments to his other big franchise, The Avengers. But by the time Infinity War rolled around, Renner was nowhere to be seen in either. What was the deal?
In an interview with Digital Spy, Christopher McQuarrie revealed that it was indeed his commitment to Avengers that prevented Renner from being in Mission: Impossible – Fallout, even though he didn't show up in Infinity War:
"At the time, when the movie started, we didn't really have a screenplay, so it was very difficult for us to say who would be in the movie for how long and on what days, and he had a commitment to Marvel. So there was just simply no predicting. If we had a finished script, we would have been able to say, 'Yes, this will work and we can let you go for this time', but there was just no predicting what those roles were going to turn out to be. It was just an unfortunate case of bad timing."
Talk about bad timing. Remember when Jeremy Renner was being positioned to be the new lead in not one, but two action franchises? When Mission: Impossible – Ghost Protocol revitalized interest in the franchise, Tom Cruise stepped up to take the lead once again and Renner was relegated to barely-there supporting role, and finally, not there at all. And when The Bourne Legacy disappointed and Matt Damon decided to return to that series, Renner was left without a franchise to lead again. Oh well, at least he'll always have Tag.
Mission: Impossible – Fallout hits theaters on July 27, 2018.