'Welcome To Marwen' Trailer: It's A Small World For Steve Carell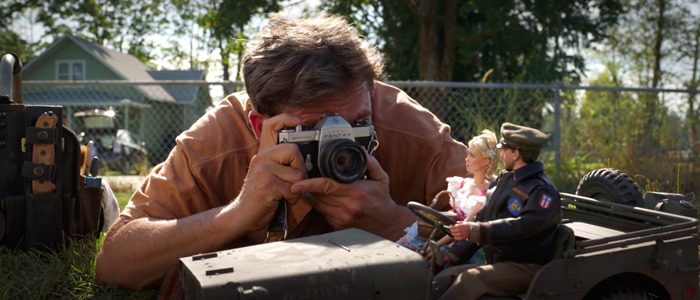 Director Robert Zemeckis has been working on an adaptation of the 2010 documentary Marwencol since 2013, and his fictionalized version of the true story, entitled Welcome to Marwen, is finally coming to the big screen this December with Steve Carell in the lead role. The first trailer came out almost a month ago and didn't give us high hopes for the project, but Universal has released a new one today that implemented one major change that makes all the difference in the world. Check out the latest Welcome to Marwen trailer below.
Welcome to Marwen Trailer
The back half of the first trailer was cut to the Foo Fighters' "Walk," a ridiculous music choice that was the wrong choice for the mixture of dramatic and comedic footage on display. Embarrassing and on-the-nose needle drops are unfortunately one of Zemeckis's worst habits as a filmmaker (remember Flight?), but replacing the Foo Fighters with the less in-your-face "Spirits" from The Strumbellas gives the trailer the uplifting feeling the Universal marketing team wants for a family movie coming out around the holidays.
Carell plays Mark Hogancamp, a real guy who lost his memories after being nearly beaten to death by Nazis. To cope with the post-traumatic stress, Mark builds a miniature model of a town called Marwen, complete with character models loosely based on himself and the women he knows. One of the film's big stylistic flourishes is to bring those models to life (almost like the 1998 movie Small Soldiers), so it'll be interesting to see if Zemeckis, who also wrote this screenplay, will be able to balance the seriousness of Hogancamp's condition with the comedy of those models coming to life to protect him.
Here's the official synopsis:
When a devastating attack shatters Mark Hogancamp (Carell) and wipes away all memories, no one expected recovery. Putting together pieces from his old and new life, Mark meticulously creates a wondrous town where he can heal and be heroic. As he builds an astonishing art installation—a testament to the most powerful women he knows—through his fantasy world, he draws strength to triumph in the real one.
In a bold, wondrous and timely film from this revolutionary pioneer of contemporary cinema, Welcome to Marwen shows that when your only weapon is your imagination...you'll find courage in the most unexpected place.
Welcome to Marwen was originally set to open this November, but it will now hit theaters on December 21, 2018.