'Assassination Nation' Red Band Trailer: The Internet Creates A Blood-Soaked Witch Hunt In A Small Town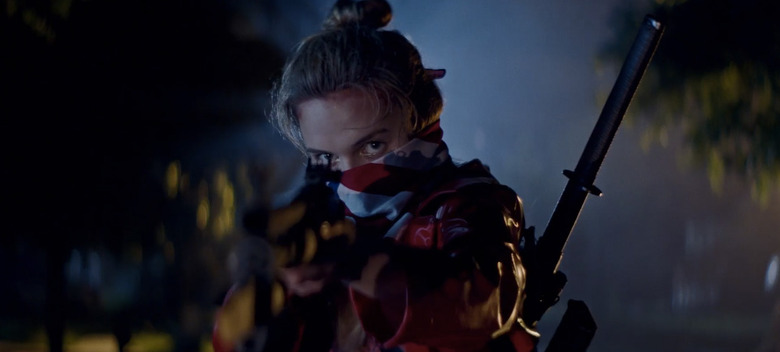 Prepare for something totally insane coming to theaters this fall.
The Sundance selected thriller Assassination Nation turns a small town into a bloodbath when a hacker starts leaking the most intimate e-mails, texts, pictures and internet search histories of a few key community figures before unleashing an absolute barrage of hacked goods. It turns the entire town upside down, and four teenage girls are getting blamed for all of it. But they're not taking this s*** lying down. Watch the Assassination Nation red band trailer to see how insane things get.
Assassination Nation Red Band Trailer
This boat-rocking indie is a hardcore a feminist exploitation movie that's like Heathers mixed with The Purge and some Japanese sukeban elements just for good measure. It's overtly sexual, relentlessly bloody, and has style and attitude to spare. It's a modern day Salem witch trial with automatic weapons, swords and a corrupt community that won't take responsibility for their own transgressions.
The fact that this movie comes with a trigger warning for audiences who may be upset by sexism, racism, torture, violence, and fragile male egos. And while the movie takes plenty of shots at the blemishes on our society, the end result does seem to bite off a little more than it can chew, trying to fit a little too much biting social satire in such a small package, resulting in something that feels like an extended music video. But it's still thoroughly provocative and entertaining, and the general audience reactions to this kind of movie should be pretty amusing to behold as well.
Odessa Young, Hari Nef, Suki Waterhouse, and ABRA star in the movie which also features Joel McHale, Bill Skarsgård, Bella Thorne and Maude Apatow. Assassination Nation is written and directed by Sam Levinson (Another Happy Day), and here's the official synopsis for the movie from Sundance:
High school senior Lily and her crew of besties live in a haze of texts, posts, selfies, and chats—just like the rest of us. So when a provocateur starts posting details from the private digital lives of everyone in their small town of Salem, the result is a Category 5 s***storm. We're talking browser histories, direct messages, illegal downloads, secret text chains, and way, way, way worse. People get angry. Like, "rampaging murder posse" angry. And Lily finds herself right in the middle.
Assassination Nation hits theaters on September 21, 2018.