'Rugrats' Series Reboot In The Works Along With A Live-Action CGI Hybrid Movie With Presumably Horrifying Babies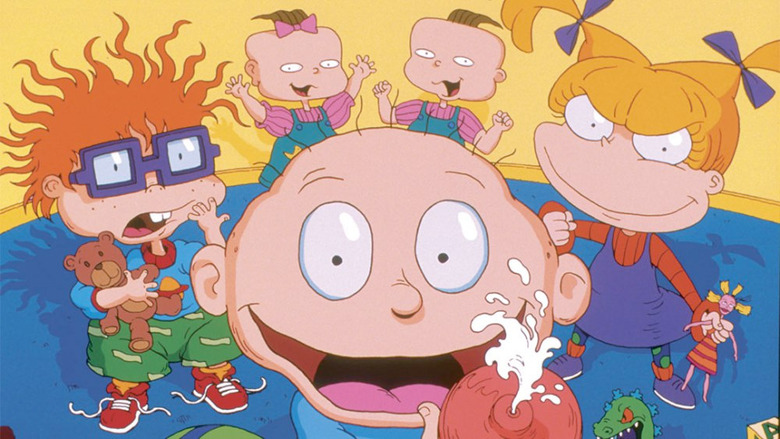 One of Nickelodeon's crown jewels from their library of Nicktoons is undoubtedly the quirky animated series Rugrats. The series followed the imaginative antics of a group of toddlers who got into mischief and could talk to each other when their oddball parents weren't around. Now there's a Rugrats reboot in the works at Nickelodeon, both in the form of a new movie and a new animated series.
Nickelodeon has ordered 26 episodes of a Rugrats reboot that will bring back beloved babies Tommy, Chuckie, Phil, Lil, Susie and Angelica for a series of brand new adventures. On top of that, there's also a new Rugrats movie in the works. Both projects will also introduce a new world of characters with the babies everyone already loves.  However, unlike the original series, the new movie will feature a blend of live-action and computer animation, and if the character designs carry over from the original series, this has the potential to have horrifying results.
Variety has news of the major Rugrats reboot, which brings back creators Arlene Klasky, Gábor Csupó and Paul Germain as executive producers of the series that is already in the middle of production. All three worked on the original series that ran on Nickelodeon from 1990 to 2006 and even inspired a couple of movies.
As for when the series will premiere or who will be providing the voices for the characters, that will be announced at a later date. The latter piece of production will be key, because Rugrats had some of the most unique and skilled voice actors bringing these characters to life. E.G. Daly provided the voice of Tommy Pickles, and the late Christine Kavanagh voiced Chuckie Finster for most of the series. Meanwhile, Kath Soucie played twins Phil and Lil, Cheryl Chase played the older brat Angelica, and Cree Summer voiced fellow big kid Susie Carmichael. Will any of them be brought back? We'll have to wait and see.
Another signature part of what made Rugrats so great was the fact that composer Mark Mothersbaugh was behind the wacky score for the series. He would often take cues from classic movies, use unique instruments and sounds, making it unlike any other cartoon on TV at the time. It would be nice if he was brought back as composer.
On the animation side of things, it sounds like this will be a traditional 2D animated series, though it's not specified whether the series will try to emulate the original animation style or become something a little different. But the other Rugrats project will certainly be something fans haven't seen before.
New Rugrats Movie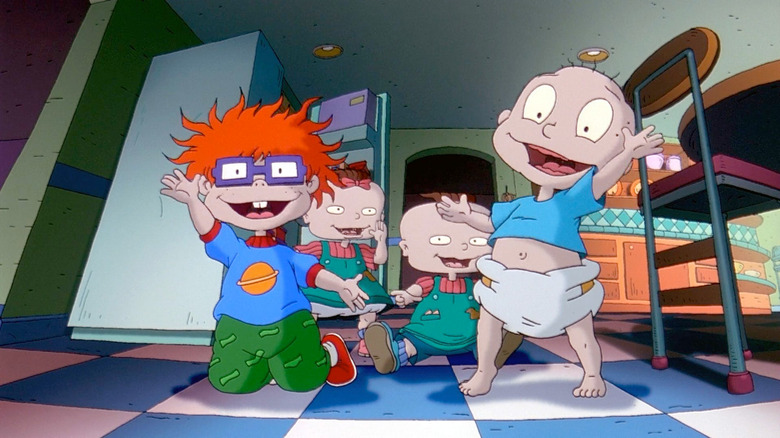 Paramount Players, a new film division launched to develop projects based on properties from Viacom cable channels, has given the greenlight for a Rugrats movie that will be a live-action film with CGI characters. Does that mean the adults will be live-action while the babies will be computer animated?
Rugrats is known for their unique character designs, so if those were transferred over to photorealistic computer animation, that would be horrifying. But even more odd would be seeing Tommy, Chuckie, Phil and Lil as realistic human babies getting involved in all sorts of imaginative antics. Could we be looking at another Baby Geniuses here?
It was already jarring enough when The Rugrats Movie gave the animated series a glossy makeover with some dingier colors, but bringing the Rugrats into the real world doesn't sound like something anybody asked for at all.
Details on the cast and storyline for this new Rugrats movie haven't been revealed, but David Goodman (Family Guy) is writing the script. Paramount Players must be confident in the project because they've already set a release date of November 13, 2020.
Stay tuned for updates on the Rugrats reboot on the big and small screen.