'Fantastic Beasts: The Crimes Of Grindelwald': The Darkest Wizarding World Chapter Yet [Comic-Con 2018]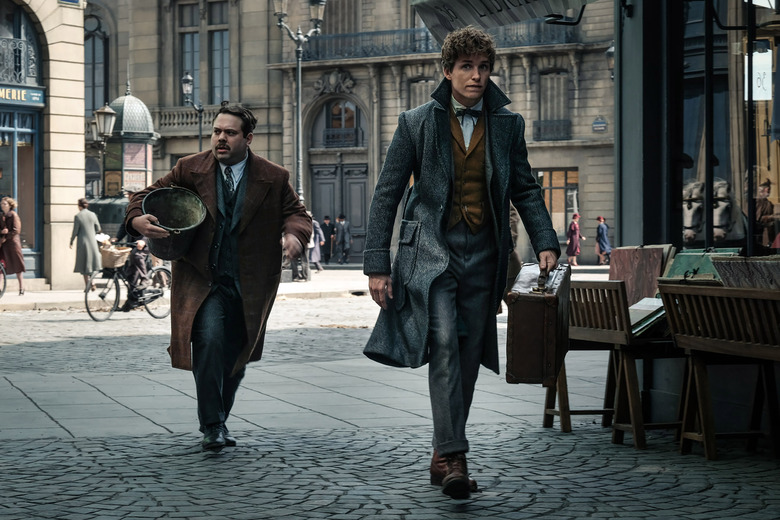 Warner Bros. Pictures kicked off their massive San Diego Comic-Con panel in Hall H by returning to the wizarding world with Fantastic Beasts: The Crimes of Grindelwald. Not only did a new trailer play during the panel, but cast members Eddie Redmayne, Katherine Waterston, Dan Fogel, Alison Sudol, Ezra Miller, Zoe Kravitz, Claudia Kim, Callum Turner, and Jude Law were on hand. But it's the special guest who popped up during the middle of the panel that really made waves and kinda creeped everyone out.
The energy during the panel was high as Eddie Redmayne appeared at the front of Hall H in a spotlight, waving his wand over the crowd to activate light-up bracelets that all attendees were given before they entered. It was a cool effect that created some practical magic among the crowd. But let's get to the real meat and potatoes of this panel.
Hot Dumbledore Has a Lot of Secrets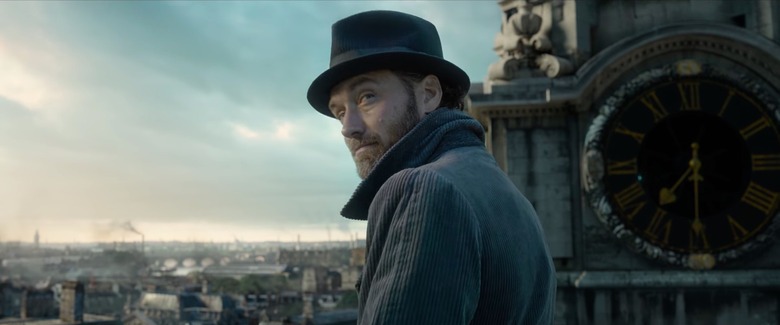 Jude Law was happy to be called "young" Dumbledore with the character aged 45, especially since that's how old the actor himself is, and it's given him some new life. Law also added:
"The Dumbledore we all know and love from the Harry Potter films is nearly 100 years older. So there's a long way to go before we get to him. He develops a penchant for caftans and loses his razor along the way, and I'm happy all of that is still to come. Director David Yates gave me the freedom of establishing him in his own right. He's still mischievous, and he has a gift for influencing people and being slightly manipulative. And he's got secrets, as all of J.K. Rowling's characters do. There are chasms to him, and all of them will be explained over time."
One chasm that might have been alluded to in the trailer features a shot of Dumbledore as he looks into what appears to be the Mirror of Erised and he sees none other than Johnny Depp as Gellert Grindelwald. Could that be a hint at the relationship that Dumbledore longed for that ended up being torn apart by their different philosophies on the magical world? Speaking of Grindelwald...
Johnny Depp Appears as The Dark Wizard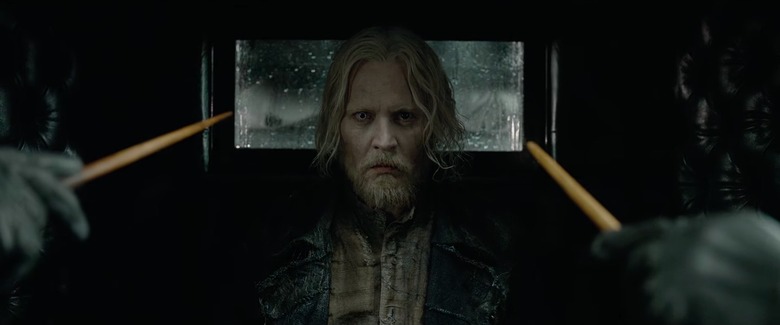 In the middle of the Fantastic Beasts: The Crimes of Grindelwald pane, the giant wall screens suddenly glitched and the lights went dark. A voiceover from Grindelwald said, "You came today because you crave something new, something different. That moment has come. Open your minds, and I will show you the future." Johnny Depp suddenly appeared on stage in full make-up and wardrobe and addressed the crowd with a whole monologue in character:
"My brothers, my sisters, my friends, the great gift of your applause is not for me but for yourselves. Therefore, applaud yourselves.
It has been said that I hate the non-magic, the Muggles, the No-Maj, the Can't-Spells. I do not hate them. I do not. I say the Muggles are not lesser but other. Not worthless but of other value. Magic blooms only in rare souls. It is granted to those who live. Oh, what a world we would make for all of humanity. We who live for freedom, for truth, the moment has come to rise up and take our rightful place in the world."
Johnny Depp has certainly taken some heat for some unfavorable behavior, but his presence certainly energized the crowd and the performance he gave in Hall H was quite eerie and reminiscent of the time Tom Hiddleston took the stage as Loki during the Marvel Studios panel.
The Darkest Chapter of the Wizarding World Yet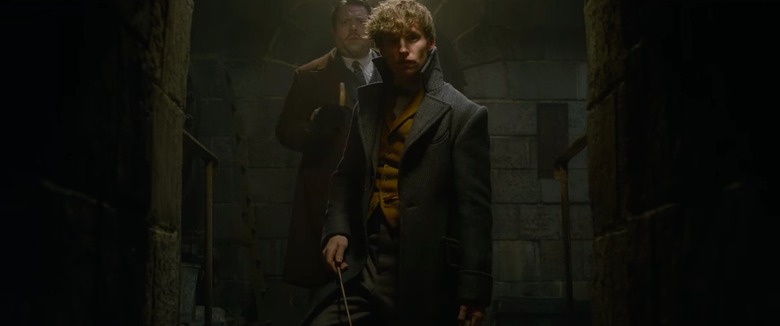 Finally, perhaps the most enticing part of the panel had Jude Law teasing just how much is at stake in this sequel. Law said that this might be the darkest the wizarding world has ever gone before. We're not sure how it gets much darker than what Voldemort achieved in the original Harry Potter franchise. But we'll find out this fall.
***
Fantastic Beasts and Where to Find Them director David Yates, who also helmed the final four Harry Potter films, returns to helm this film and its next three sequels. Written by J.K. Rowling in her second stint as a screenwriter, The Crimes of Grindelwald takes place just a few months after Newt Scamander's (Eddie Redmayne) adventures in New York. However, the situation is a whole lot more dire now that the dangerous dark wizard Grindelwald (Johnny Depp) is on the loose. The timid, pacifist magizoologist ends up being enlisted by Albus Dumbledore (Jude Law) in a globe-trotting mission to stop Grindelwald's oncoming war.Fantastic Beasts: The Crimes of Grindelwald also stars Zoë Kravitz, Callum Turner, Claudia Kim, William Nadylam, Kevin Guthrie, Carmen Ejogo, and Poppy Corby-Tuech.
Here is the synopsis to Fantastic Beasts: The Crimes of Grindelwald:
At the end of the first film, the powerful Dark wizard Gellert Grindelwald (Johnny Depp) was captured by MACUSA (Magical Congress of the United States of America), with the help of Newt Scamander (Eddie Redmayne).  But, making good on his threat, Grindelwald escaped custody and has set about gathering followers, most unsuspecting of his true agenda: to raise pure-blood wizards up to rule over all non-magical beings.
In an effort to thwart Grindelwald's plans, Albus Dumbledore (Jude Law) enlists his former student Newt Scamander, who agrees to help, unaware of the dangers that lie ahead.  Lines are drawn as love and loyalty are tested, even among the truest friends and family, in an increasingly divided wizarding world.
Fantastic Beasts: The Crimes of Grindelwald opens November 16, 2018.