'Wonder Woman 1984' Is Not A Sequel, But A Whole New Chapter [Comic-Con 2018]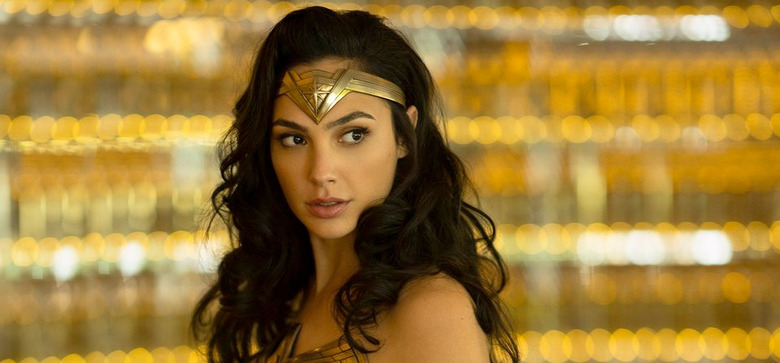 Patty Jenkins, Gal Gadot, and Chris Pine put in a high-energy appearance at Comic-Con to talk up Wonder Woman 1984. The film has only been shooting for three weeks, yet Jenkins and company still managed to blow the roof off Hall H. Read what went down in the Wonder Woman 1984 Comic-Con panel below.Patty Jenkins returns to direct Wonder Woman 1984, the highly anticipated sequel to her 2017 mega-hit, Wonder Woman. This time, the best superhero of the DC Extended Universe goes to the '80s at the tail end of the Cold War.
Fittingly, much of Wonder Woman seems to be set in Washington, D.C., with filming taking place in the nation's capital as well as Alexandria, Virginia. Wonder Woman 1984 will see Gal Gadot's Diana facing off against Kristen Wiig's villainous Cheetah, who in the comics is an archaeologist cursed and possessed by an evil entity that takes the form of an anthropomorphic cheetah. The film will also see the return of Chris Pine as Steve Trevor, looking mightily confused in a fanny pack and tracksuit in a recent photo.
Gal Gadot, Patty Jenkins, and Chris Pine took the stage at Hall H, and the enthusiasm was through the roof. Wonder Woman 1984 is only three weeks into production, so the three panelists couldn't reveal too much, but one thing both Gadot and Jenkins stressed is that Wonder Woman 1984 is not a sequel. It's a whole new story – a whole new chapter in the Wonder Woman saga. "I have these characters that I love, and we can make a whole new movie about something new?" Jenkins said. "Of course I would want to do that." To highlight how different the new movie is, Jenkins debuted some brief footage, and the crowd went bananas.
The footage looks nothing like the first Wonder Woman. It's brightly lit, almost jarringly so. We watch as Wonder Woman swings into a very 1980s mall, and battles it out with two criminals. Just as Wonder Woman arrives to take on the bad guys, a child steps in the way, clearly impressed with Wonder Woman's presence. Wonder Woman saves her by sliding her across the mall into a giant stuffed teddy bear, and then proceeds to unleash her golden lasso. The footage is bright and crisp, and has a very '80s vibe – think of it like an episode of GLOW that just happens to feature Wonder Woman. The clip culminated with Wonder Woman hauling ass through a city street. It was delightful, and the crowd ate it up.
So why the '80s? As Jenkins explains, the 1980s were both the "best and worst" of times – there were advances in culture and the world as a whole, while there were also terrible things happening. With that in mind, it made sense to drop Wonder Woman into an era where humanity was at its extreme.
As you may have noticed by now, Chris Pine is back...even though his character Steve Trevor died in Wonder Woman. What brings Steve back from the grave? Everyone was tight-lipped. All Jenkins would reveal is that Trevor's return is a "very important part" of the film. In other words – we're going to have to wait to find out the answer to the Steve Trevor mystery.
Here's the synopsis to Wonder Woman 1984:
Fast forward to the 1980s as Wonder Woman's next big screen adventure finds her facing an all-new foe: The Cheetah. As previously announced, the film also stars Kristen Wiig in the role of the Super-Villain The Cheetah, as well as Pedro Pascal. Chris Pine also returns as Steve Trevor.
Wonder Woman 1984 opens in theaters on November 1, 2019.