'Aquaman' Washes Up Exclusive, Goofy Footage [Comic-Con 2018]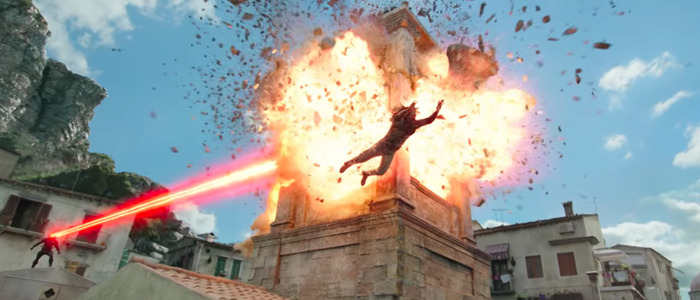 The Aquaman Comic-Con panel got started with a big splash – literally. The projection screens surrounding Hall H simulated a tidal wave of water engulfing the hall, resulting in star Jason Momoa taking the stage. Here's what else washed ashore during the Aquaman Comic-Con 2018 panel.
Momoa struck an odd balance between brooding and ecstatic in last year's Justice League, so it'll be fascinating to see what he does with the character of Arthur when he's able to lead his own movie and not being constantly edged out of the frame by more famous heroes. The DC movies may not always deliver, but we've learned never to doubt director James Wan; we have our fingers crossed that he provides a solo adventure that's exciting, dramatic, and unlike anything we've seen in the DC Universe we've seen thus far (including the Atlantis sequence in Justice League...please let this movie be nothing like that).
After Momoa came out on stage, he was joined by cast members Amber Heard, Nicole Kidman (in her first Hall H appearance ever!), Patrick Wilson, Yahya Abdul-Mateen II, and director James Wan. The results were...awkward. The cast and Wan all seemed thrilled to be there – Momoa in particular seemed to be having the time of his life. But the questions pitched to the group sank rather than swam. But of course, what everyone wanted to see was footage, and Wan and company delivered, and then some. First came the trailer, which is loaded with CGI and hints at a very, very goofy movie. I'm honestly not sure how I feel about what we saw here, because while I'm a fan of Wan's work, this looks nothing like his previous films.
Following the official trailer, Wan debuted an extended Hall H exclusive trailer that I liked a bit more...but not much. We watch a lengthy sequence in which Aquaman and Mera trek across the Sahara and find a ruined hall. In a moment stolen from The Fifth Element, Aquaman and Mera need to activate a mysterious device with water, so Mera uses Aquaman's sweat. Aquaman punctuates this moment by quipping, "We could've just peed on it." The running theme in this footage is that Aquaman is still very much a bro, constantly making bad jokes. Will it work? I really don't know, but it at least looks better than Justice League.
From there, the footage turned into more of a traditional trailer, with moments seen in the officially released trailer, plus an extended action sequence in which Aquaman and Mera are being chased by Black Manta and his henchmen, including a prominent figure in a red armor, across rooftops and through buildings. The scene moves at lightning speed, and looks like the best action we've seen in a DCEU film besides Wonder Woman. This action is clear and exciting, and highlights Wan's considerable directorial skill. The best moment for this whole piece of footage came near the end, where we got to witness Nicole Kidman kicking people's asses with a trident. But the scene that really won the crowd over was the very last shot, where we see Aquaman wearing his traditional orange and green costume.
I really don't know what to make of Aquaman. I want to like this, because I love Wan, and I do appreciate how silly this movie appears to be. There's a moment where characters ride sharks, and I'm pretty sure I saw a giant robotic crab. It's hard to hate a movie with a giant robot crab, folks.
Aquaman splashes into theaters on December 21, 2018.