The First 'Aquaman' Teaser Poster Goes Under The Sea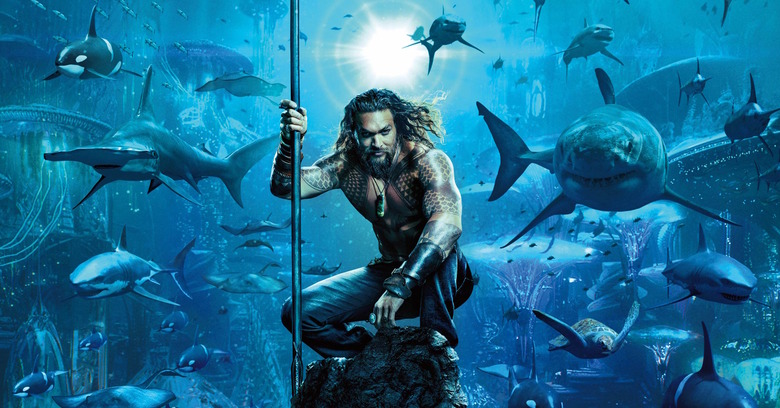 Following a tidal wave of new images and stills from James Wan's upcoming Aquaman, Warner Bros. has released the first teaser poster. This reveal comes days before San Diego's Comic-Con, at which it's anticipated the very first Aquaman trailer will be revealed to the public at Warner Bros.' highly anticipated panel. But first, let's take our first look at the Aquaman teaser poster.
The first teaser poster for Aquaman wisely highlights our fish-friendly superhero played by Jason Momoa, showing him perched atop a rock leading an army of sharks, whales, and other underwater creatures.
Aquaman Teaser Poster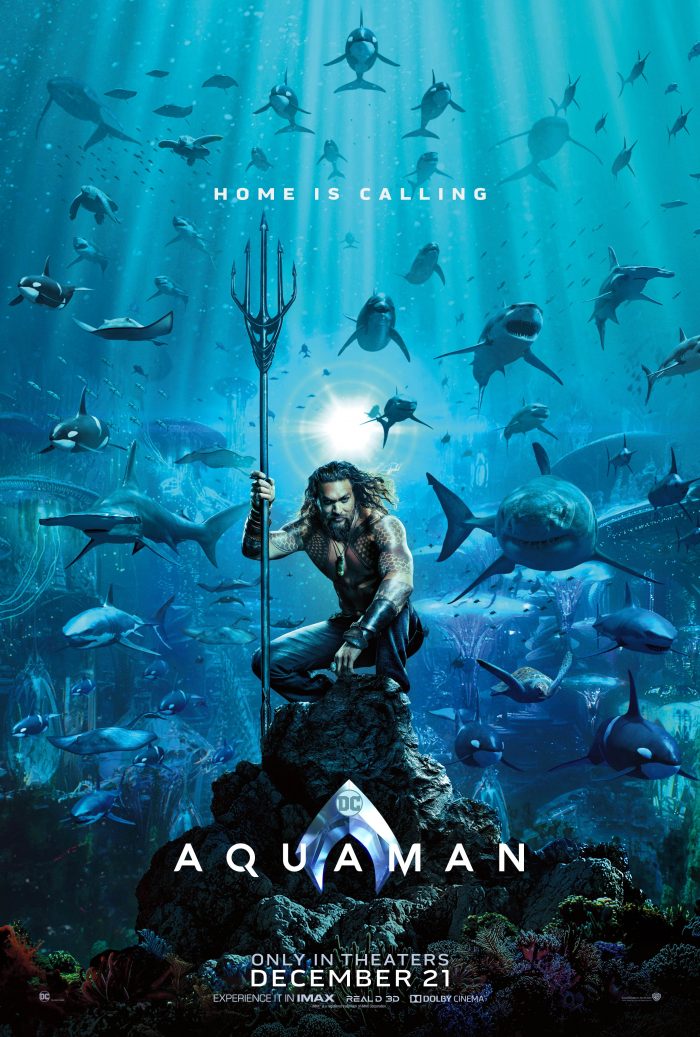 It's a colorful, simple poster that highlight's Wan's insistence that Aquaman will be worlds away from the dark and gritty DCEU whose gloomy tone has become so divisive. Plus, some can't help but notice that the poster seems to echo the poster for Pixar's Finding Nemo:
I mean I'm just saying pic.twitter.com/W9W9wU6vHp

— Alex Zalben (@azalben) July 16, 2018
James Wan has specifically pointed to the romantic adventure Romancing the Stone and the swashbuckling Raiders of the Lost Arc as inspirations for Aquaman. "The spirit that I'm going for is like a classic sort of swashbuckling action adventure, sort of high seas adventure story," Wan told Entertainment Tonight back in 2016.
While Wan typically is known for his horror films like Saw and The Conjuring, Wan is no stranger to light-hearted, vibrant action films, having helmed the acclaimed Fast and Furious sequel Furious 7. With this colorful but intense teaser poster, I anticipate Aquaman will be a mixture of Wan's greatest strengths in both genres.
This poster comes on the heels of a deluge of new images released by Warner Bros. ahead of Comic-Con. The movie is jam-packed with new antagonists and political rivals, but the teaser poster wisely does away with all of that and focuses on our hero: the half-human, half-Atlantean Aquaman. Jason Momoa was a scene-stealer in Justice League and looks more than capable of holding his own in his solo film. Even if he insists on wearing pants while underwater.
Aquaman also stars Amber Heard, Patrick Wilson, Nicole Kidman, Willem Dafoe, and Yahya Abdul-Mateen II, and it's set to hit theaters on December 21, 2018. We'll have more on Aquaman from San Diego Comic-Con this week so stay tuned.