Duncan Jones Appears To Be Making A 'Rogue Trooper' Movie From The Judge Dredd Universe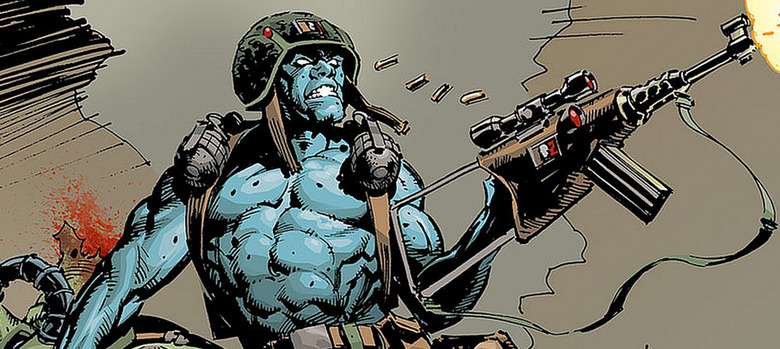 Moon and Mute director Duncan Jones teased last week that his next project would be a comic book movie. Immediately, fans began speculating which Marvel Studios or DC Extended Universe project the filmmaker might be taking on. But it appears they needed to look beyond the two biggest players in the comic book world for their answer.
Duncan Jones posted a homemade video to Twitter over the weekend featuring himself pondering what project to tackle next. He alludes to the possibility of something Marvel or DC related, even mentions the likes of Image Comics and Dark Horse. But we soon find that what tickles the fancy of Duncan Jones is something from the 2000 AD comic book world, where Judge Dredd resides. However, Jones doesn't have his eyes on reviving Dredd, but instead he might be bringing Rogue Trooper to the big screen for the first time.
Duncan Jones Teases a Rogue Trooper Movie
As promised... pic.twitter.com/6y3pzn2Cn1

— Duncan Jones (@ManMadeMoon) July 15, 2018
While he doesn't come right out and say it, the mohawk sported by Jones in the above video and the reference to 2000 AD comics is a dead giveaway. That's the signature hairstyle of none other than Tor Cyan, a blue-skinned, genetically engineered soldier tasked with fighting a planetary civil war on a world where the atmosphere has long since become toxic. Funnily enough, he was drawn by Dave Gibbons, the illustrator who also gave us the blue-skinned genius Dr. Manhattan in Watchmen.
Tor Cyan isn't the title character of Rogue Trooper, but he is one of the featured soldiers in the comic book, and he was given his own comic series as well. Instead, Rogue Trooper focuses on a similar blue-skinned, genetically engineered soldier named Rogue who is joined by three other soldiers in the form of biochips. In this universe, a soldier's personality is downloaded when they die and used later to assist other soldiers. In this case, Rogue is accompanied by Gunnar (on his rifle), Bagman (on his backpack) and Helm (on his helmet).
This is certainly a more obscure choice for a comic book adaptation, but if it's something Duncan Jones is passionate about, maybe he can get people on board. Dredd might not have been a huge success, but that doesn't mean other characters who haven't been seen on the big screen yet from that universe won't capture the attention of audiences. The question is whether we'll be getting a Rogue Trooper movie, or a movie more focused on Tor Cyan's own comic. But maybe this will be both? Stay tuned.