'Uncharted' Fan Film: Nathan Fillion Finally Suits Up As Adventurer Nathan Drake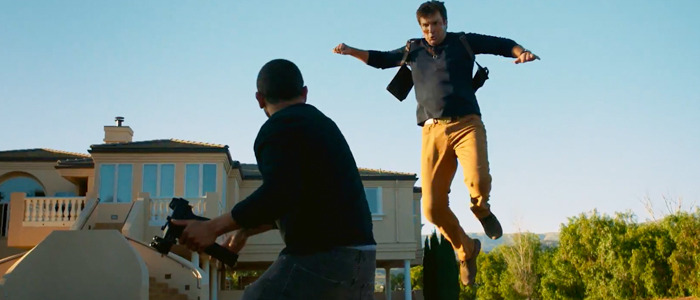 Ever since the first Uncharted video game arrived back in 2007, fans have wanted to see actor Nathan Fillion (Firefly, Castle) play the lead role of Nathan Drake, a treasure-hunting adventurer/thief, in a movie adaptation. The actor bears a striking physical resemblance to the video game protagonist, and Fillion has proven capable of matching the character's sarcastic temperament and quick wit in parts he's played in the past. An Uncharted movie has been in the works for years at Sony, but since Fillion isn't going to be involved with that project, he's taken matters into his own hands.
In this unofficial live-action Uncharted fan film, Fillion finally suits up as Nathan Drake – and he's joined by a cast of familiar faces in key supporting roles. Check out the short film below.
Uncharted Fan Film
Fan films like this are typically very hit or miss, but this one turned out to be pretty solid. Director Allan Ungar (who co-wrote the script with Jesse Wheeler) crafted what feels like one section of a much larger story, and Fillion is absolutely pitch perfect as Drake. He plays all of the facets of the character wonderfully – his version of Drake is nervous, intelligent, quippy, and capable, just like in the game. This is why he's been at the top of every fan casting list for this part for a decade, why he campaigned for the role in the feature film back in 2010, and why fans are so passionate about seeing him bring this part to life.
When Drake's longtime partner/friend Sully lowered his binoculars and I saw he was being played here by Stephen Lang (Avatar, Don't Breathe), an involuntary smile broke out across my face. That's excellent casting – Lang is a terrific match for the character of Sully, a former Navy man who's handy with a gun and serves as Drake's mentor throughout the games. And if you're wondering why the guy who plays "El Tigre" looks familiar, that's Ernie Reyes Jr, the star of '90s movies like Surf Ninjas and Teenage Mutant Ninja Turtles II: The Secret of the Ooze. More recently, he's popped up in The Rundown and Indiana Jones and the Kingdom of the Crystal Skull.
Fillion is currently 47 years old, and in the eyes of a major studio, that may be a few years past the ideal age to play the lead in an ongoing adventure franchise. (Spider-Man: Homecoming star Tom Holland is currently attached to play a young version of Drake in Sony's feature film.) But it's cool to see his passion for the character translated into something like this that fans can enjoy.
We're supposed to be speaking with Fillion soon about this project, so stay tuned for more.