New Season Of 'Doctor Who' Will See Lots Of Changes While Honoring The Doctor's Legacy [Comic-Con 2018]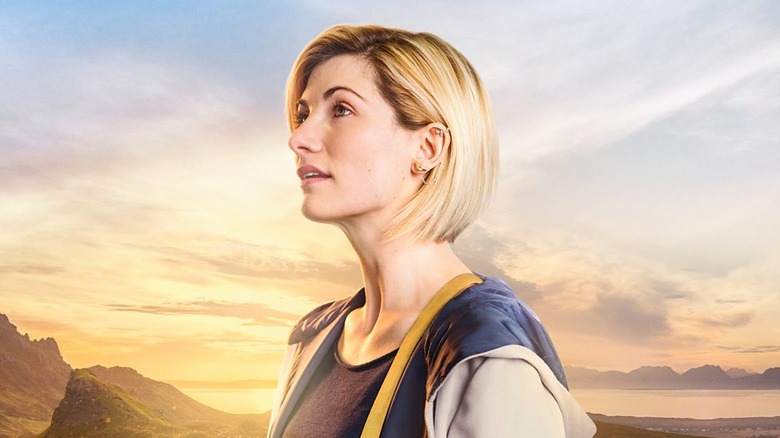 Comic-Con's Hall H crowd was buzzing with anticipation in the minutes leading up to the BBC America's Doctor Who panel this morning. More than a couple of the attendees — both men and women — were dressed up as Jodie Whittaker's thirteenth Doctor, and even more were wearing Doctor Who-themed clothing, pins, and other paraphernalia. This was a crowd full of Whovians (myself included), and we were ready to get to know the new Doctor a bit better...and to meet her new friends.
The New Doctor Arrives
BBC America started the panel by showing a video of Whittaker running around the Doctor Who production stage in Cardiff. Apparently, she's trying to get to Comic-Con, and after teasing she might take the TARDIS (alas, there was a sign on the Police Box saying it was not for personal use), the video showed Jodie outside the San Diego Convention Center walking toward Hall H after receiving directions from a fan dressed up as Jodie's new Doctor. The video was silly, but it served its purpose: as it ended the crowd cheered so loudly the seats vibrated, and Jodie walked onto the Hall H stage along with new showrunner Chris Chibnall, executive producer Matt Stevens, and actors Tosin Cole and Mandip Gill, who play the Doctor's new friends Ryan and Yaz.
After a brief introduction, the audience was treated to a video rehashing the anticipation surrounding the reveal of the new Doctor last July through clips of excited fans reacting to the news. The footage was unexpectedly emotional, and it warmed this Whovian's two hearts (and perhaps even made her cry a bit) before the panel had barely begun.
So we were excited, but there was still an expectation, a hope, for something more. The panel, however, intentionally lacked spoilers, and Chibnall took the time to explain why the show has kept things so wrapped up. "It's really just so we can get it to you guys and everyone in the world at the same time all polished, and all right, and all exciting," he said. "I really love television when it is a communal experience...I think it will be really awesome and I want you guys to all be talking about it at the same time...and you're not going to want to be spoiled, frankly.'
But we want some something! Anything! And we did get something: a new trailer with some new stuff.
Little in Form of New Footage, But We Did Get a (Sort of) New Trailer
The beginning of the new trailer was a bit of a cheat, and was merely a replay of Whittaker's premiere as the Doctor at the end of last year's Christmas episode. After we see the TARDIS ejecting her into space, however, the words "Coming Soon" pop up and we hear Whittaker saying, "All of this is new to me." And it's true; as the trailer emphasizes, pretty much everything is new. There are new faces (the Doctor and her friends, of course), new worlds (including a Mars-like one with burning vehicles and one that eerily resembles a '50s-era suburban neighborhood), and of course, a new sonic screwdriver. You can watch it here if you haven't seen it yet.
A Promise of Something New Yet Loyal to The Doctor's Legacy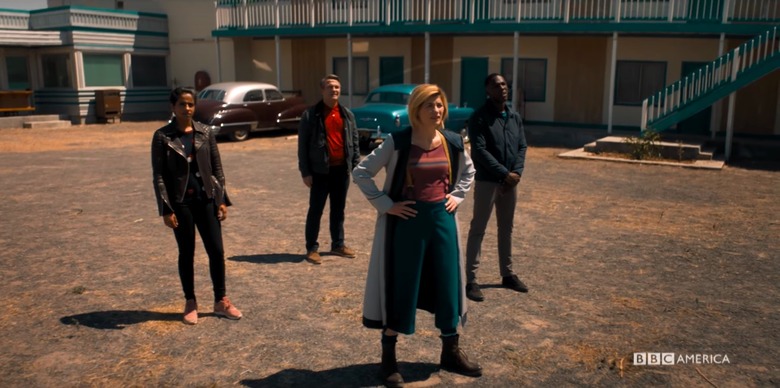 "New," in fact, was the refrain that the panel hit again and again.
The most noticeable difference, of course, is the Doctor's gender, though as Whittaker explained, this may not be as big of a change as some may think. "The wonderful thing about playing the Doctor is I'm playing an alien, so all those rules [about how women are expected to act] are irrelevant to the approach," she explained. Though while the Doctor may still be the Doctor, Whittaker (after getting permission from Chibnall that she could share the anecdote) went on to explain that how others interact with the Doctor does change in the upcoming season. "Sometimes in episodes, people's response is different because they're speaking to a woman," she said. "And that's interesting and that's why this role will be layered and fascinating to play."
Chibnall also emphasized that the upcoming season is meant for everyone, even those who never watched Doctor Who before. "This year is the perfect jumping on point for that person in your life who has never watched Doctor Who," he said. "There is no barrier to entry this year...it's a great moment to bring everybody on board. It's a big inclusive mainstream accessible series of ten really varied, exciting, standalone stories. So you won't see very much from the past, though there will be things here and there."
Sadly, one of those old things not likely to show up this upcoming season is Daleks. "We got two weeks left of shooting and we haven't seen any [Daleks] yet," Chibnall said, choosing his words carefully. Perhaps they will show up in season twelve or perhaps Chibnall is intentionally leading us astray.
But Daleks or not, this upcoming season may be a shot in the arm for the series, a refreshing update that brings something different but keeps the two hearts and the legacy of Doctor Who alive. And, if the Hall H audience is any indication, the fandom is ready for it.
Whittaker will make history as the first woman to ever play the Doctor, who has mostly been portrayed by older white men — though recent iterations have seen the Doctor as young as age 27 with Matt Smith, who played the Eleventh Doctor. It's a momentous break in tradition for Doctor Who, which is a beloved children's show that has become a staple of British culture since its premiere in 1963. But showrunner Chris Chibnall and his producers say there "wasn't even a question" about picking a woman to replace Capaldi. Executive producer Matt Strevens told Entertainment Weekly:
"She was just so compelling. In a way, it was a no-brainer. The fact that we were casting a female Doctor disappeared really quickly from our minds. We were just casting the Doctor and she felt like our Doctor."
Doctor Who season 11 will premiere on BBC One in the UK and BBC America in the US in fall 2018.