'Star Trek: Discovery' Season 2 Will Feature A Young Spock And The Return Of "Number One" [Comic-Con 2018]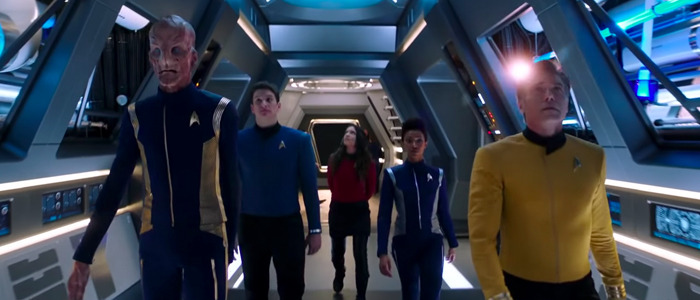 Every Star Trek show beyond the original series tends to have a shaky first season, and Star Trek: Discovery was no exception. But the CBS All Access series showed promise – promise that could very well be fulfilled by season 2.
The first footage from season 2 premiered at the show's Comic-Con panel (watch it below), but that wasn't the only thing worth noting. The show's cast and producers were also on hand and they revealed some nifty tidbits about what to expect, including the return of not one, but two characters from Trek canon.
First of all, here's the season 2 sizzle reel that debuted before the Comic-Con crowd. The new season finds Captain Christopher Pike of the U.S.S. Enterprise (yes, that one) taking command of the Discovery so they can investigate a series of alien signals that have begun popping up all over the galaxy. Are they a greeting? A threat? Something else? It's up to our daring crew to find that answer, an answer that only grows more complicated when Michael Burnham (Sonequa Martin-Green) learns that Spock, her foster brother, has taken a leave of absence from the Enterprise and is somehow connected to the strange signals.
That's a pretty slick trailer, even though the song choice is downright unforgivable. Anson Mount looks terrific as Captain Pike (rocking that classic yellow uniform!) and comedian Tig Notaro, playing a new character named Reno, wears a Starfleet uniform very well.
As if the trailer didn't already confirm it: yes, a certain Vulcan science officer will officially show up this season. "Yes, you will be seeing Spock this season," executive producer and new showrunner Alex Kurtzman promised. And Spock won't be the only familiar character making a grand return. Anson Mount revealed that Rebecca Romijn has joined the cast as "Number One," the female first officer originally introduced in the first Star Trek pilot, back when Captain Pike was still the lead character and Captain Kirk didn't exist. Number One (originally played by Majel Barrett Roddenbery) never made the leap to the original series, so she remains one of the most fascinating question marks in Trek history. Who is she and what was her deal? Now, we'll find out.
Kurtzman also announced a new series of 10-15 minute short films called "Short Treks" that are set to debut later this year. Each film will focus on a single character, from Tilly to Harry Mudd to a mysterious new character played by Aldis Hodge.
Star Trek: Discovery season 2 came to Comic-Con amidst behind-the-scenes turmoil. While most fans seem to agree that the first season only grew stronger as it found its legs, all was not well off-camera. Last month, original showrunners Gretchen Berg and Aaron Harberts were fired following reports of the writing staff being mistreated:
Multiple writers are said to have been uncomfortable working on the series and had threatened to file a complaint with human resources or quit the series altogether before informing Kurtzman of the issues surrounding Berg and Harberts. After hearing rumors of HR complaints, Harberts is said to have threatened the staff to keep concerns with the production an internal matter.
However, it's still warp speed for Star Trek on the small screen. In addition to a second season of Star Trek: Discovery, CBS is reportedly developing a number of other Star Trek projects, including a show that may feature the return of Star Trek alum Patrick Stewart as Captain Picard.
Star Trek: Discovery season 2 will arrive in early 2019.