'A Simple Favor' Trailer: Anna Kendrick Tries To Find Gone Girl Blake Lively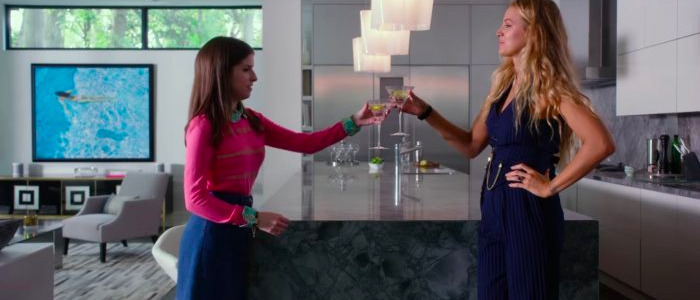 There have been approximately ten thousand trailers for A Simple Favor, and now here's another one! The film will introduce audiences to "the darker side of Paul Feig", staging a Gone Girl-style mystery featuring Anna Kendrick and Blake Lively. Watch the latest Simple Favor trailer below.
A Simple Favor Trailer
I really do not know what to make of A Simple Favor. There have been a plethora of trailers for the film, and each trailer has seemed as if it was advertising a completely different movie from the last. Is it a comedy? Is it a thriller? Is it both? I don't know! I will say the film looks like it could be good, although it also looks like it's lifting a lot of elements from David Fincher's Gone Girl adaptation. Here's the film's synopsis.
A SIMPLE FAVOR, directed by Paul Feig, centers around Stephanie (Anna Kendrick), a mommy vlogger who seeks to uncover the truth behind her best friend Emily's (Blake Lively) sudden disappearance from their small town. Stephanie is joined by Emily's husband Sean (Henry Golding) in this stylish thriller filled with twists and betrayals, secrets and revelations, love and loyalty, murder and revenge.
The film is adapted from the Darcey Bell novel of the same name. The novel's synopsis is a bit more detailed, and might shed some more light on just what is going on here:
It starts with a simple favor—an ordinary kindness mothers do for one another. When her best friend, Emily, asks Stephanie to pick up her son Nicky after school, she happily says yes. Nicky and her son, Miles, are classmates and best friends, and the five-year-olds love being together—just like she and Emily. A widow and stay-at-home mommy blogger living in woodsy suburban Connecticut, Stephanie was lonely until she met Emily, a sophisticated PR executive whose job in Manhattan demands so much of her time.
But Emily doesn't come back. She doesn't answer calls or return texts. Stephanie knows something is terribly wrong—Emily would never leave Nicky, no matter what the police say. Terrified, she reaches out to her blog readers for help. She also reaches out to Emily's husband, the handsome, reticent Sean, offering emotional support. It's the least she can do for her best friend. Then, she and Sean receive shocking news. Emily is dead. The nightmare of her disappearance is over.
Or is it? Because soon, Stephanie will begin to see that nothing—not friendship, love, or even an ordinary favor—is as simple as it seems.
And in case you were still wondering just how derivative of Gone Girl this all is, the book's synopsis literally has this in the logline: "A single mother's life is turned upside down when her best friend vanishes in this chilling debut thriller in the vein of Gone Girl and The Girl on the Train." So...yep.
That said, I like Feig, and I'm curious to see him work outside the comedy genre, so I'll definitely be giving A Simple Favor a chance when it hits theaters September 14, 2018. And I have a simple favor to ask of my own: please, stop releasing trailers for this movie. We have enough.