'King Kong' Broadway Video Teaser Shows The Beast Being Constructed For The Stage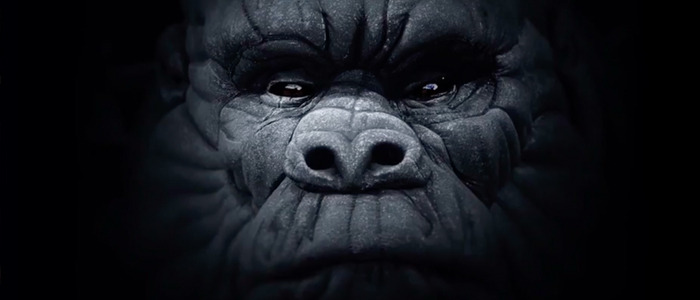 The last time we saw King Kong careening around New York City was in the virtual world of the OASIS in Steven Spielberg's Ready Player One. Before that, it was at the end of Peter Jackson's 2005 film adaptation (which, by the way, is better than you remember). But now the giant ape is heading from Skull Island to the Big Apple once again – this time in a Broadway musical. Check out a new teaser video for the King Kong Broadway production below.
The Hollywood Reporter has an exclusive video of the 20-foot, 2,000-pound animatronic creature being built, as well as a quick look at the theater marquee for King Kong Alive on Broadway, a "musical retelling of the classic story":
I always like watching behind the scenes stuff like this, especially seeing little details like the injuries from the ending of the story being applied to Kong's face and body. And that stegosaurus in the background probably isn't just there for a Jurassic Park musical, so it's a good bet we're going to be seeing some dino action on stage here as well.
As we previously reported, King Kong Alive on Broadway is a revamped version of an Australian stage production that first hit the stage back in 2013. That show was praised for its iteration of Kong, but the script left a lot to be desired. Why waste a cool stage version of Kong when the work of designing him has already been done? Enter: Jack Thorne, the award-winning playwright who wrote Harry Potter and the Cursed Child. He wrote this new King Kong Broadway book, which will also have a totally different cast and director attached. Olivier Award-winner Drew McOnie (In the Heights) will direct, and Eddie Perfect, who is also currently working on a Beetlejuice musical, is penning new songs for this. Original composer and arranger Marius de Vries remains on board to perform those same duties.
Here's another video of Kong in action, lumbering around the stage and interacting with the character of actress Ann Darrow during a song (which won't be in this new version). It also features some interviews with the play's original director which are kind of sad to watch now knowing he's been replaced, because you can feel his passion for the story:
Hopefully all the right tweaks were made and this revamped version blows people away. King Kong Alive on Broadway begins previews on October 5 at the Broadway Theatre ahead of its official opening on November 8, 2018.