Danai Gurira Circles Roles In 'Godzilla Vs. Kong,' 'Star Trek'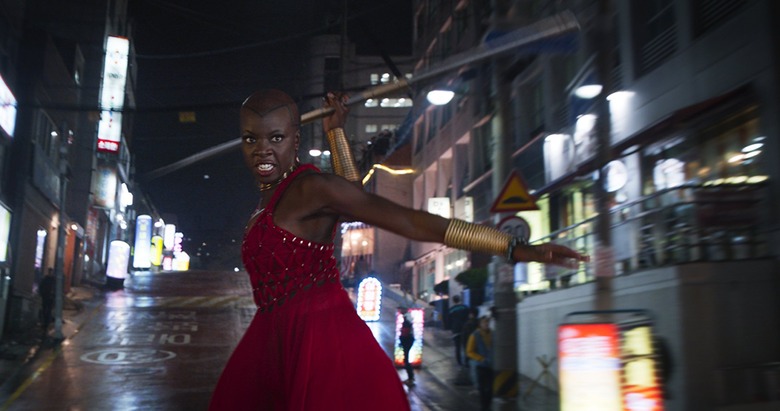 Hot off the heels of her scene-stealing turn in Black Panther, Danai Gurira is preparing for franchise domination. The career of the the Walking Dead star is looking as alive as ever, with Gurira entering early talks to star in the upcoming Godzilla vs. Kong, and circling a potential role in the Star Trek sequel.
Godzilla and More
Gurira is in early talks to star in Godzilla vs. Kong, which will be the fourth installment of the Legendary/Warner Bros. cinematic universe following 2019's Godzilla: King of the Monsters, according to Deadline. Death Note's Adam Wingard will direct Godzilla vs. Kong, which is set to hit theaters on May 22, 2020.
The Godzilla vs. Kong cast is currently being built out, with Millie Bobby Brown and Julian Dennison already on board. Bobby Brown will be reprising her role from Godzilla: King of Monsters, which just released a series of first images this week via Entertainment Weekly.
Godzilla: King of Monsters takes place five years after the events of 2014's Godzilla, and depicts a world in chaos after the discovery of the giant lizard creature.
"The world is reacting to Godzilla in the same way we would react to any other terrifying incident, in that we are overreacting," director Michael Dougherty (Krampus) told EW. Godzilla hasn't been seen for years, "but there's paranoia and endless speculation about whether he is the only one out there or whether we're threatened by others like his kind."
Bobby Brown plays the daughter of Vera Farmiga's Dr. Emma Russell from the beast-hunting organization Monarch, and of Kyle Chandler's Mark Russell, who embarks on a rescue mission with two stars from the original Godzilla, Ken Watanabe and Sally Hawkins. There are no details yet on whether other cast members from Godzilla: King of Monsters will return for Godzilla vs. Kong.
Boldly Going to Star Trek
But that's not the only major franchise film that Gurira is circling.
Sources told Deadline that she is circling a part in the next Star Trek film. Paramount has tapped S.J. Clarkson as the first woman to helm a Star Trek movie, and it's possible that Clarkson is eyeing Gurira for a major part in the Star Trek sequel. No surprise there — in Gurira's two breakout roles in The Walking Dead and Black Panther, she's played phenomenally intimidating and powerful warriors, which would make her fit perfectly in the Star Trek universe.
An official release date for Star Trek 4 has not been announced.