Marvel's 'Black Widow' Tracks Down A Director In Cate Shortland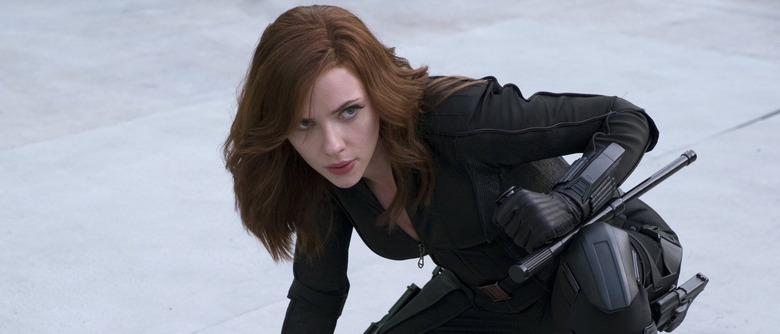 We don't know much about the future of the Marvel Cinematic Universe beyond Avengers 4, but we do know this much: the future is female. After Captain Marvel shatters the MCU's glass ceiling next near, Scarlett Johansson's Black Widow will take center stage in her own solo movie and now we know who will direct it: Australian filmmaker Cate Shortland.
If that name sounds familiar, that's because Shortland emerged as a frontrunner for the role a few weeks ago. But now, The Hollywood Reporter has confirmed that she has nabbed the gig, beating out over 70 other filmmakers for the job. THR reports that while Marvel Studios did look at several male filmmakers, finding a woman for the job remained a top priority. Other finalists for the job included Amma Asante, Maggie Betts, Melanie Laurent, and Kimberly Pierce. Jac Schaeffer wrote the screenplay.
While Shortland is not a well-known name, she has a fan in Johansson, who reportedly pushed for her hiring after watching her 2012 World War II drama Lore. More recently, Shortland directed 2017's Berlin Syndrome. Her other credits include Somersault and TV shows like The Secret Life of Us and Bad Cop, Bad Cop.
Plot details about the Black Widow movie remain under lock and key, but rumor has it that the film will be a prequel set before the events of Marvel's "Phase One" films (Iron Man through The Avengers). Some have even speculated that it will be a full-on prequel, exploring the early career of Natasha Romanoff, the Russian assassin turned Avenger. I'm of the opinion that Black Widow is a far more interesting character after she's survived several alien invasions and a robot uprising as a non-super-powered spy, but those folks at Marvel seem to know a thing or two about making successful superhero movies and I'm just some guy.
There is no start date or release date set for the Black Widow movie, but it does help give us an outline of what to expect from Marvel Studios' secretive "Phase 4." We know Guardians of the Galaxy Vol. 3 and Black Panther 2 are on the way, and another Doctor Strange movie feels inevitable. And then there's Spider-Man: Far From Home, whose very existence is a spoiler for Avengers 4. How Black Widow fits into this line-up remains to be seen, but I think we can all agree that, after lurking in the shadows for 20 movies, it's about time she got her own solo adventure.