'Fantastic Beasts: The Crimes Of Grindelwald' Reveals A Young Newt Scamander Who Isn't Eddie Redmayne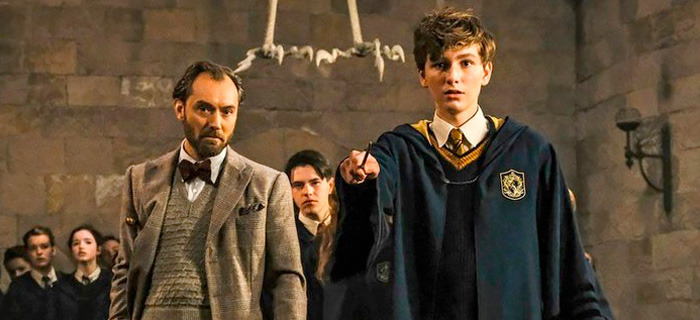 Hey, did you forget that there's another installment of the Fantastic Beasts and Where to Find Them coming this fall? The second chapter of what is intended to be a five-part film franchise is called Fantastic Beasts: The Crimes of Grindelwald, and it will introduce us to the youngest version of Albus Dumbledore we've seen yet (played by Jude Law). But it turns out we'll actually see an even younger version of the Hogwarts professor in the film than we previously thought, and we'll see a young Newt Scamander along with him.
A new Fantastic Beasts: The Crimes of Grindelwald image has surfaced online, and it's a flashback photo revealing Newt Scamander as a Hogwarts student. Rather than using visual effects to make Eddie Redmayne look younger, director David Yates cast a young actor named Joshua Shea, and he's the spitting image of the Oscar-winning star.
Young Newt Scamander in Fantastic Beasts: The Crimes of Grindelwald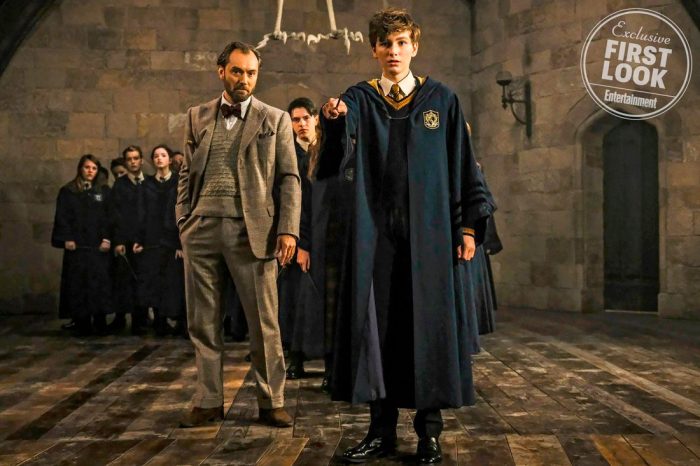 What exactly is going on in this photo from Entertainment Weekly? Clearly it's happening during one of Professor Dumbledore's classes. Remember, he's not headmaster during this time period, but this is where he struck a personal mentorship with Newt Scamander, not unlike the kind of relationship he had with Harry Potter. Could this be where we learn why Scamander was expelled from Hogwarts?
You might recall that Fantastic Beasts and Where to Find Them revealed that Newt Scamander was kicked out of the school of witchcraft and wizardry for "endangering human life," as auror Percival Graves (Colin Farrell) phrased it. Dumbledore objected to the expulsion, but Scamander was kicked out anyway. The young wizard does look a little worried at whatever he's looking at, but we'll have to wait until the movie arrives to know what happens in this flashback.
There's a chance that Leta Lestrange (Zoe Kravitz) could be part of this scene. We can't see an actress who looks like Zoe Kravitz in the photo, but she could be hidden behind the young Newt Scamander. Whatever romance that blossomed between Newt and Leta went south, and the witch went on to date Newt's older brother Theseus Scamander (Callum Turner), who is an auror for the Ministry of Magic. There's certainly a lot of story to tell there, so anything is possible.
As for the rest of the Fantastic Beasts: The Crimes of Grindelwald cast, we'll see the return of Newt's new love interest Tina Goldstein (Katherine Waterston), her sister Queenie (Alison Sudol), and Queenie's No-Maj boy toy Jacob Kowalski (Dan Fogler). Plus, Johnny Depp is returning as the titular villain Gellert Grindelwald.
A new Fantastic Beasts: The Crimes of Grindelwald trailer might be arriving sooon, but in the meantime, you can watch the first trailer again over here, and stay tuned for any updates leading up to the film's release on November 16, 2018.