Cool Stuff: Mondo Bringing 'Planet Of The Apes' And 'The Shape Of Water' Prints To San Diego Comic-Con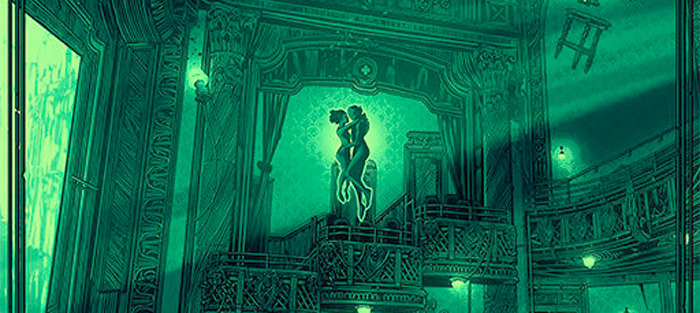 We're less than a week away from the beginning of San Diego Comic-Con, and more exclusives that fans will be able to get their hands on are popping up all the time. Every year the pop culture convention comes around, we're excited to see what goodies the folks at Mondo are bringing to the show floor, and the first couple prints have been revealed.
Mondo has unveiled a print for Beneath the Planet of the Apes by artist Eric Powell and two stunning The Shape of Water prints from Daniel Danger. You can get a look at both of the Mondo Comic-Con 2018 exclusive prints below.
Mondo Beneath the Planet of the Apes Print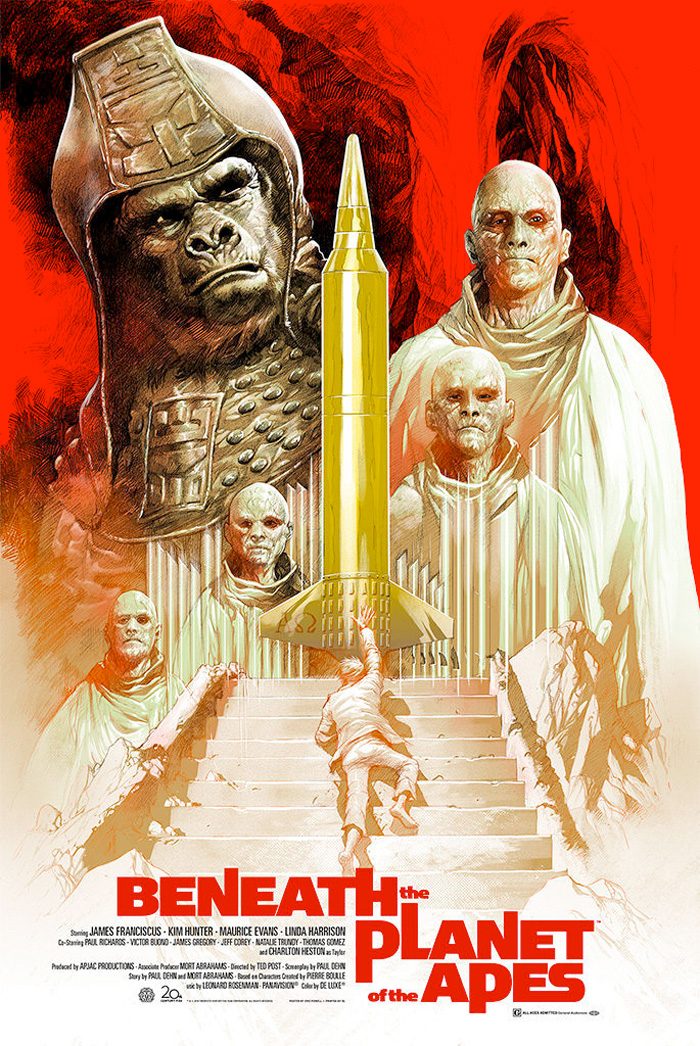 There are plenty of prints out there for the original Planet of the Apes, but this one focuses on the sequel for the 1970 sequel Beneath the Planet of the Apes, directed by The Twilight Zone helmer Ted Post. The advanced apes aren't the only beings an astronaut played by James Franciscus finds on the planet. Under the surface is a colony of humans with psychic powers, and that's where things get weird.
This print is quite vibrant, and it's perfect for framing for any Planet of the Apes fan. Of course, you'll have to brave the lines at San Diego Comic-Con to get your hands on one of these 24x36 prints for $50 each. Or if you're lucky, there might be some available in the online shop after the convention.
Mondo The Shape of Water Prints
Even more gorgeous are these two prints for The Shape of Water, the Best Picture-winning fantasy romance directed by Guillermo del Toro. The artist wrote on Twitter how excited he was to release this print:
"A bit into The Shape of Water, I whispered to my wife "I'm gonna draw this movie so hard." Then [Guillermo del Toro] gave me his blessing, so I did. I put my draw all over it. This tweet is overtly sexual by nature because let's not pretend that film didn't shimmy your jimmys."
The color edition is the regular version, and it will cost $60 at Comic-Con while a black and white variant will be available in Mondo's online store for $80 at the same time. Unfortunately, the edition sizes were not made available to SyFy at the time of this post, so we'll have to wait for more details on that, as well as the size of the print itself.