'Y: The Last Man' FX Series To Star Barry Keoghan, Diane Lane, And More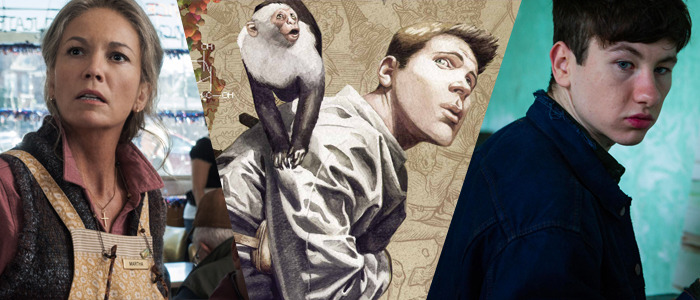 Earlier this year, the seemingly impossible happened: FX actually ordered a pilot for a TV adaptation of writer Brian K. Vaughn and artist Pia Guerra's beloved comic book Y: The Last Man. The project had been kicking around Hollywood for over a decade, flirting with a movie version several times before eventually finding a suitor on television at FX.
Now the Y The Last Man cast has been announced, and American Animals star Barry Keoghan has been tapped to play the male lead. In addition, Diane Lane (Justice League) has joined the cast in a key role as a Senator, and we also know who will play Agent 355, the lead's sister Hero, and more. Read on to learn about the rest of the cast.
Y: The Last Man launched in 2002, and tells the story of amateur magician Yorick Brown, who becomes the only human male left on the planet after a disease decimates the Earth's population of male species and leaves only women alive. The comic sees him go on the run with a government agent to try to find his lost girlfriend and try to figure out why he's the last man left on Earth. The official description of the TV show goes like this: "Y traverses a post-apocalyptic world in which a cataclysmic event has decimated every male mammal save for one lone human. The new world order of women will explore gender, race, class and survival."The Hollywood Reporter says that Keoghan, who also starred in Dunkirk and The Killing of a Sacred Deer, will play Yorick, and Lane will play "Jennifer Brown, a junior senator in her first term who has already made a name for herself in political circles for her willingness to put personal ideals above politics." Imogen Poots (Green Room) will play Yorick's sister Hero, "a tough and confident EMT who nurses a deep emotional trauma that often leads her to cross personal and professional lines."Lashana Lynch (the upcoming Captain Marvel) is set to play Agent 355, "a Secret Service agent who performs the duties of her job with the utmost professionalism — even under the most unexpected circumstances." Juliana Canfield (HBO's Succession) will portray Yorick's girlfriend Beth, who, in the comics, is speaking on the phone with him from across the world at the moment the plague hits. Finally, Marin Ireland (Sneaky Pete) will play Nora, "the president's senior assistant and right hand. She effortlessly balances family life with a job navigating the corridors of power."Y is an incredibly cinematic comic, and if it has to exist outside that medium, I'm glad to see it come together as a long-form TV show instead of trying to cram 60 issues of story into one film (or maybe a trilogy). This seems like a strong cast, so I'm excited to see what showrunners Michael Green (American Gods, Blade Runner 2049, Logan) and Aïda Mashaka Croal (Luke Cage, Turn) have planned. Melina Matsoukas (Master of None) will direct the pilot episode.