'Black Panther' Star Chadwick Boseman To Cross '17 Bridges' In Action Movie Produced By The Russo Brothers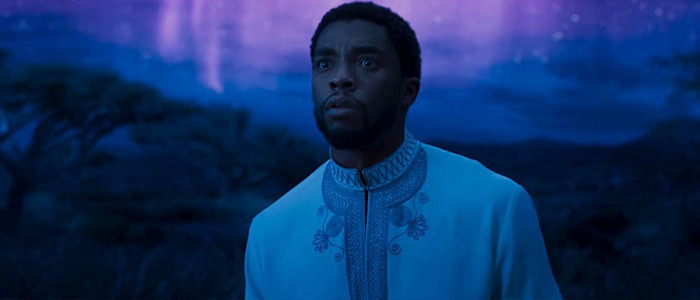 After becoming a household name playing the King of Wakanda in huge box office hits like Marvel Studios' Captain America: Civil War, Black Panther, and Avengers: Infinity War, actor Chadwick Boseman is stepping away from the Marvel universe – temporarily, at least – to headline a brand new action movie of his own. Boseman is co-producing and starring in 17 Bridges, a police thriller from STXfilms that's also set to be produced by Infinity War directors Anthony and Joe Russo. Read on for a breakdown of the movie's plot.
According to a press release, 17 Bridges "follows a disgraced NYPD detective (Boseman) who, after being thrust into a citywide manhunt for a cop killer, is given a shot at redemption."
The script is written by Adam Mervis, a theater writer who previously wrote a little-seen sports drama called The Philly Kid. But its director is a slightly bigger name: it'll be helmed by Brian Kirk, who's probably best known for directing the first two episodes of the Idris Elba detective series Luther and a handful of episodes in the first season of HBO's Game of Thrones. Boseman will produce alongside his writing/producing partner Logan Coles and the Russo brothers, while Mike Larocca (Rise of the Planet of the Apes, Spy, the upcoming Syfy series Deadly Class) will executive produce.
Boseman, who broke out playing real-life icons like baseball legend Jackie Robinson in 42 and singer James Brown in Get On Up, was a welcome addition to the Marvel family as Black Panther. But even within his own solo movie, he wasn't able to pop very much on screen. Maybe it's the character's relatively calm demeanor or even-handed temperament, or maybe it was simply that the supporting casts around him are always so damn great, but I hope 17 Bridges gives him the opportunity to step up and show off more of what he can do.
This film's plot sounds extremely familiar from that one-sentence description, but loglines are designed to boil things down into overly simplistic terms, so I'd like to think there's a bit more here to chew on. If not, these types of thrillers are largely dependent on execution – it's not like anyone was blown away by the plot of The Raid, for example, but seeing how Gareth Evans elevated such a simple premise was a joy to watch. Maybe Kirk, Boseman, and the rest of the team have a few surprises of their own in store.