'Mission: Impossible – Fallout' Clips Feature Tom Cruise Cheating Death, Punching People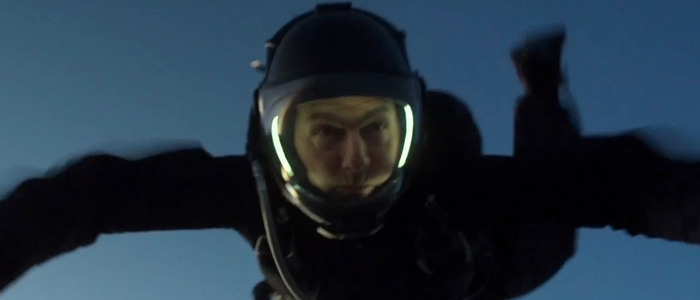 Tom "Tommy" Cruise is at it again. The seemingly immortal actor is giving a middle finger to death and jumping out of a damn plane, all for the sake of entertainment. A new Mission: Impossible – Fallout clip features Cruise performing one of the film's most terrifying stunts – jumping out of a plane flying close to 30,000 feet, going about 220 MPH. And that's not all! There's also a clip of Cruise punching people and getting punched himself! What more do you need?
Mission: Impossible – Fallout Clip
Suit up. The first death-defying clip from #MissionImpossible Fallout has arrived. pic.twitter.com/s1ETRrZDbM

— Mission: Impossible (@MissionFilm) July 10, 2018
In this Fallout clip, secret agent and deranged man Ethan Hunt (Tom Cruise) gets into a scuffle with character August Walker (Henry Cavill). Hunt suggests that they don't jump out of a plane, but Walker isn't having it. I have to call bullshit here for a second – since when is Ethan Hunt against doing dangerous stuff? Is this a new Ethan Hunt we're seeing. One who isn't so sure about risking his life?
I guess it's a moot point anyway, because Hunt does end up jumping out of the plane. A normal, sane individual would rely on a stuntman, or CGI/VFX work to get this done. Cruise, however, decided to do the jump for real. Because he is crazy. You can actually watch a behind-the-scenes video of Cruise performing the stunt below.
But wait, there's more. Another Fallout clip features Cruise and Cavill engaging in an all-out brawl in a public bathroom. This is the scene that features the now-famous moment where it looks like Henry Cavill is re-loading his fists like they're guns.
Fallout Bathroom Fight Clip
I'm so pumped for this movie, folks. Mission: Impossible has worked steadily to become our best modern action franchise, with each film improving on the last. Early buzz for the latest Mission is extremely positive, and I'm hopeful that the latest Tommy Cruise adventure will save a somewhat h0-hum summer movie season.
The dangerous plane jump is just one of many stunts Cruise performed for the new film. The actor broke his ankle while leaping between two buildings. Ever the pro, Cruise got up and finished the scene with his broken ankle, and then spent a few months recovering. You can watch Cruise reacting to the stunt gone wrong here.
Mission: Impossible – Fallout, starring Tommy Cruise, Henry Cavill, Ving Rhames, Simon Pegg, Rebecca Ferguson, Sean Harris, Angela Bassett, Michelle Monaghan and Alec Baldwin, opens July 27, 2018.
The best intentions often come back to haunt you. MISSION: IMPOSSIBLE – FALLOUT finds Ethan Hunt (Tom Cruise) and his IMF team (Alec Baldwin, Simon Pegg, Ving Rhames) along with some familiar allies (Rebecca Ferguson, Michelle Monaghan) in a race against time after a mission gone wrong. Henry Cavill, Angela Bassett, and Vanessa Kirby also join the dynamic cast with filmmaker Christopher McQuarrie returning to the helm.