DC's 'Shazam' Quietly Cast Djimon Hounsou As A 3,000-Year Old Wizard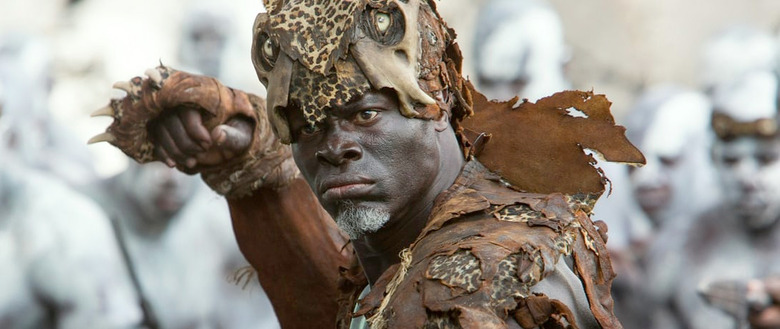 Production on the DC Comics adaptation of Shazam may be finished, but that's not stopping us from learning about a new cast member.
Gladiator and Guardians of the Galaxy star Djimon Hounsou has been revealed to be part of the Shazam cast. He's not a last minute addition being inserted into the movie during reshoots or in post-production, but instead he's been cast in the movie for awhile, but his involvement had not yet been discovered until now. So who is Hounsou playing?Entertainment Weekly has announced that Djimon Hounsou will be part of the Shazam cast as the 3,000-year old sorcerer from Ancient Egypt who uses his powers to fight evil and has been seeking a successor to carry on his mission. So he ends up giving his powers to a young kid named Billy Batson (Asher Angel), allowing him to turn into the fully grown adult superhero known as Shazam (played by Zachary Levi). The role was previously reported to belong to Ron Cephas Jones, but his casting never came together due to a scheduling conflict.
The size of Hounsou's role isn't clear, but if he was able to shoot his role without anyone finding out about it, there's a chance it could be only a quick appearance when his character gives Billy Baston his superpowers. Then again, the wizard does occasionally pop up to give Shazam advice and guidance, so maybe he'll appear a few times intermittently throughout what will be the superhero's origin story.
Hounsou will now be one of the few actors to have a role both in the Marvel Cinematic Universe and the DC Extended Universe. The actor previously played Korath the Pursuer in Guardians of the Galaxy, a role that he will reprise in Marvel's upcoming 2019 release of Captain Marvel. Funnily enough, Captain Marvel was the original comic book name of Shazam before DC Comics changed the title. Also, let's not forget that Hounsou also had a key role in the DC Comics title Constantine.
More than likely we're hearing about Djimon Hounsou playing the wizard in Shazam right now because San Diego Comic-Con will see the debut of the first trailer for the movie, as teased by director David F. Sandberg. Since the character is the source of the title character's powers, he'll likely make a quick appearance. There's a good chance we'll be treated to some more footage in Hall H at the convention too, so stay tuned to find out everything we learn about Shazam, arriving in theaters on April 5, 2019.