'Ant-Man And The Wasp' Is The 20th Marvel Studios Movie To Open At #1, Surpasses Original Opening Weekend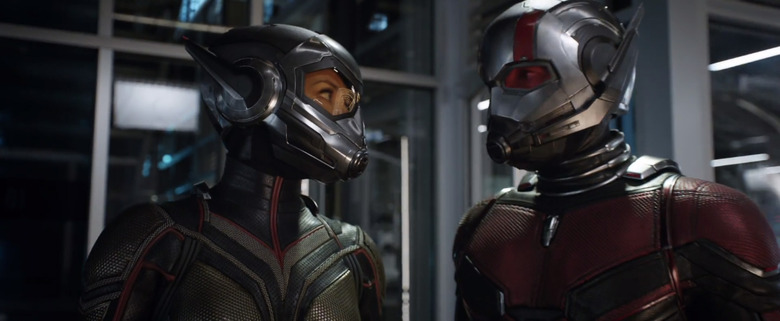 It should come as no surprise that Ant-Man and the Wasp topped the box office this weekend, and that it's another sequel that has surpassed its predecessor in the opening weekend.
Ant-Man and the Wasp raked in $76 million at the domestic box office, coming in under the projections that had it making more than Doctor Strange's opening weekend of $85 million. It's also the lowest opening for a Marvel Studios sequel, but that's not necessarily a bad thing since the original opened to $57.2 million back in 2015. 
With the release of Ant-Man and the Wasp, Marvel Studios now has their 20th movie that has opened in the #1 spot at the box office. It had no problem fending off the weekend's other major release, The First Purge. The horror prequel was only able to rake in $17 million. However, that doesn't necessarily mean the franchise has run its course. The First Purge actually opened on July 4, and pulled in $31 million from Wednesday to Sunday. So while the actual first weekend wasn't as impressive as past entries in the series, the $13 million production is already turning a profit.
The only downside with Ant-Man and the Wasp right now is Forbes pointing out that the opening weekend is rather front-loaded. The movie had a $33.8 million opening day and a $11.5 million Thursday night preview launch, which accounts for $45.3 million (well over half) of the opening weekend. That means the movie might not have long legs at the box office. That could make it difficult to surpass the $180 million domestic run of the original Ant-Man, which had some impressive legs, but only time will tell.
Globally, Ant-Man and the Wasp debuted with $85 million from international markets, giving the sequel a worldwide opening of $161 million, adding to the $17 billion global haul of all the movies from the Marvel Cinematic Universe.
Though Ant-Man and the Wasp isn't throwing up the same kind of numbers that bigger franchises in the MCU normally do, Disney is still quite satisfied with the numbers. Cathleen Taff, Disney's head of domestic distribution, told Variety, "We are really thrilled about the results. We continue to be amazed by what Kevin Feige and the team do with these films."
As for the rest of the box office, Incredibles 2 was able to take the #2 spot, knocking Jurassic World: Fallen Kingdom down to the #3 spot. Sounds like the superhero fatigue everyone keeps talking about has taken a vacation for the summer.