Netflix Pushes Back 'Castlevania' Season 2 Release Date To October 2018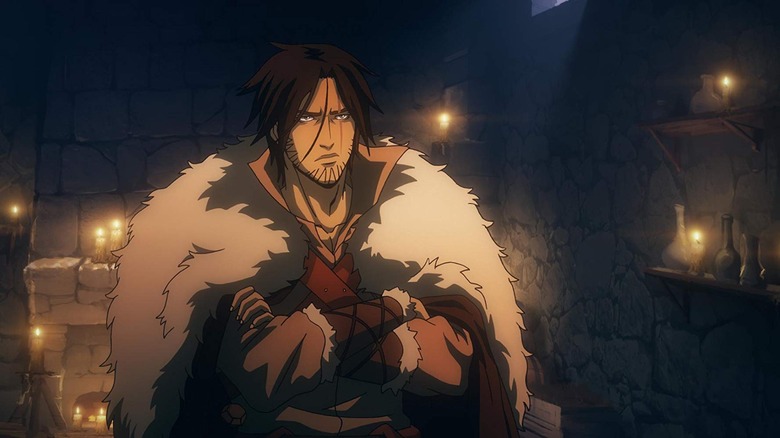 After months of bated breath, Castlevania fans can finally rest easy: a season 2 release date has been announced.
Following months of teasing from Powerhouse Animation, the Netflix series will be coming back for its second season in October of this year, showrunner Adi Shankar announced. But it's a few months later than initial reports that claimed the acclaimed anime series would hit the streaming service this summer. But no matter, it will give fans a few more months to rewatch the series in anticipation of season 2.
During the Netflix panel at this year's Anime Expo 2018 in Los Angeles, Adi Shankar announced that Castlevania would return for its second season on October 26, 2018. The official Twitter account for the anime fantasy series confirmed the date.
Raise hell. Season 2 is a bloody nightmare. Join our awakening October 26, only on Netflix. pic.twitter.com/gtXU0iP2VA

— Adrian Fahrenheit Ţepeş (@Castlevania) July 6, 2018
Season 2 will double the length of the first season and will include eight episodes. Comic book author and writer/producer Warren Ellis returns to pen the season while Adi Shankar is back to produce under Powerhouse Animation.
This announcement comes on the heels of reports that a third season of Castlevania was already in the works. But it seems like the second season has already long been in the can. Earlier this year, Ellis jumped the gun and announced that the second season would drop this summer. But a release date was never officially announced until now.
The series follows the last survivor of a disgraced clan of demon hunters who takes up arms against a vengeful Count Dracula hellbent on destroying the country. The series is based on the Castlevania video game series that was first released on the NES in 1986. Konami's video game series is considered a classic and sequels have continued to appear on new consoles in the decades since it debuted. The series allows players to lead a Belmont protagonist through a castle, armed with the famous "vampire killer" whip, to find and defeat Dracula's army of the undead.
Here is Castlevania's official synopsis below:
"Inspired by the classic video game series, Castlevania is a dark medieval fantasy following the last surviving member of the disgraced Belmont clan, trying to save Eastern Europe from extinction at the hand of Vlad Dracula Tepe himself. The animated series is from Frederator Studios, a Wow! Unlimited Media company, written by best-selling author and comic book icon Warren Ellis and executive produced by Warren Ellis, Kevin Kolde, Fred Seibert and Adi Shankar."
Castlevania will premiere on Netflix on October 26, 2018.