Lasse Hallstrom And Joe Johnston Will Share Director Credit On 'Nutcracker And The Four Realms'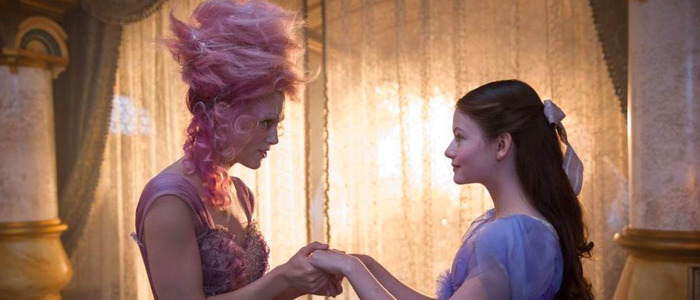 The Nutcracker and the Four Realms, a real movie that is actually coming out this year, underwent reshoots in late 2017. While the film was initially helmed by What's Eating Gilbert Grape filmmaker Lasse Hallstrom, Rocketeer and Captain America: The First Avenger director Joe Johnston was brought in to handle the aforementioned reshoots. Now word comes that Hallstrom and Johnston will share director credit, which indicates Johnston's reshoots were rather extensive.
Big Hollywood movies undergo reshoots all the time. Heck, virtually every single Marvel movie has had to go back for some quick reshoots. In fact, reshoots are usually built into a film's schedule. But usually, the reshoots are handled by the film's initial director. But not in this case. Disney's The Nutcracker and the Four Realms originally had Lasse Hallstrom at the helm. Then, in December 2017, word came that Joe Johnston was stepping in to take on some reshoots. Hallstrom was apparently busy working on something else, so Johnston ended up shooting 32 days in his place. Now, THR reports that both directors will share a credit on the final film.
THR says: "On the finished film, Hallstrom's name will appear on the first line of the title card for the movie's director, with Johnston's name appearing on a second line, just below Hallstrom's on the same card."
This is a unique situation overall. As THR reports, "The DGA could not immediately point to a similar situation where two directors, who were not part of an established team, have voluntarily shared the credit," adding:
According to the Directors Guild of America's usual rule, only one filmmaker can be credited with directing a film. Typically, that rule is waived only for established directing teams that the guild recognizes as having either a history of working together or sharing a common vision. Such directing teams have included Ethan and Joel Cohen, Joe and Anthony Russo, and Phil Lord and Christopher Miller.
That said, it's clear that Johnston's work on the film was extensive. When Ron Howard was brought in to rework Solo: A Star Wars Story, he ended up reshooting 70% of the final film. This was enough to earn him sole credit on the final film. Had his reshoot work been less extensive, original directors Phil Lord and Chris Miller could've potentially tried to arbitrate for a directorial credit.
For what it's worth, both Hallstrom and Johnston seem to be on very good terms about all of this, so it doesn't sound like a case of Disney being unhappy with Hallstrom's work and bringing Johnston in to course correct. "It was an absolute blessing to have Joe Johnston step in when it became clear that I wouldn't be available for reshoots," Hallstrom said. "Joe is the ultimate expert in visual effects and I enjoyed collaborating with him on this film."
Johnston added: "I watched an early cut of The Nutcracker and the Four Realms, and I saw something unique and fresh...When I was asked to direct the remaining elements, I saw an opportunity to complete Lasse's wonderful and wildly inventive vision. I know we'll both be proud of the end result."
The Nutcracker and the Four Realms is a big fantasy-epic retelling of the story of The Nutcracker. Keira Knightley, Mackenzie Foy, Helen Mirren and Morgan Freeman star. The film hits theaters on November 2, 2018.