'House Of Cards' Season 6 Teaser Celebrates Robin Wright's "Independence" From Kevin Spacey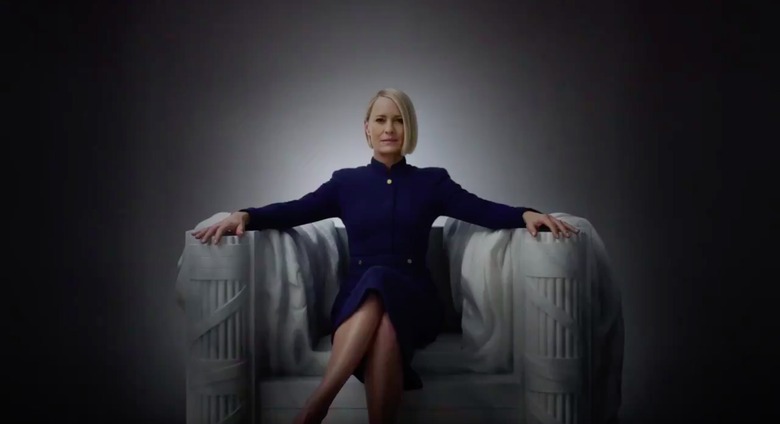 Yesterday, the nation celebrated America's Independence Day, but Claire Underwood (Robin Wright) is celebrating a different kind of "independence." Netflix released a new House of Cards season 6 teaser to coincide with the July 4 festivities, building up hype for a Claire Underwood-centric season and made a nod to Kevin Spacey's firing.
House of Cards Season 6 Teaser
A message from the President of the United States. pic.twitter.com/yx0P3qyHfW

— House of Cards (@HouseofCards) July 4, 2018
Claire Underwood has a special Fourth of July message to the country: "Happy Independence Day. To me." The brief teaser, which depicts Claire proudly sitting atop a marble throne then fades to black with the text #MyTurn appearing on the screen.
It's a short and sweet teaser that would seem along the lines of past national holiday-themed teasers that the series has rolled out before, but there are a few opaque references to the behind-the-scenes drama of House of Cards. Here, Claire Underwood declares her independence from her husband Frank, the protagonist of the series for five seasons who resigned from the presidency at the end of season 5, allowing Claire to take command. In the final moments of season 5, Claire turned to the camera to break the fourth wall for the first time in the series. "My turn," Claire declared.
But there's a little more subtext than that: the teaser is a bold nod to Spacey's firing from the show last year following a string of sexual harassment and abuse allegations made against him. Production was halted on House of Cards season 6 while the show reconfigured the season without Spacey. Netflix decided to go forward with the show with Robin Wright's Claire in the lead, bumping her up to main character after remaining in Frank's shadow for five seasons. A teaser trailer released earlier this year teased Wright's new status.
In addition to Wright, House of Cards season 6 will feature Michael Kelly, Jayne Atkinson, Patricia Clarkson,Constance Zimmer, Derek Cecil, Campbell Scott and Boris McGiver – all of whom appeared in previous seasons of the show. Newcomers to the cast include Diane Lane, Greg Kinnear and Cody Fern.
House of Cards season 6 will arrive on Netflix sometime this year.