'IT Chapter 2' And 'The Nun' Coming To San Diego Comic-Con For Another Round Of ScareDiego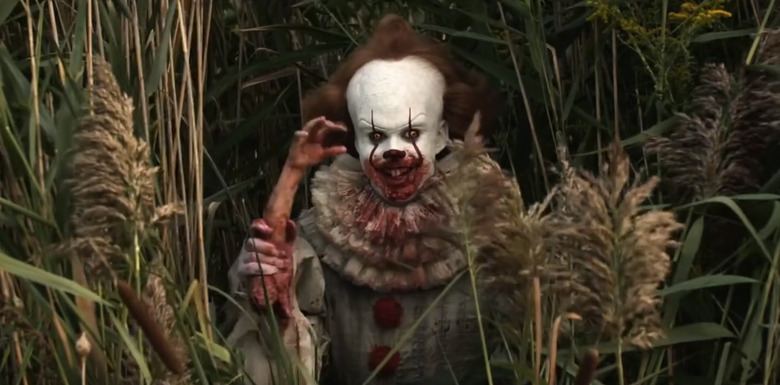 We're inching closer and closer to the 2018 San Diego Comic-Con, and that means all the marketing plans that studios and networks have are coming to light. For horror fans, there will be a special treat arriving as soon as the convention begins.
Those who follow the excitement of Comic-Con might remember that Warner Bros. and New Line Cinema held a little ScareDiego sneak preview event for Annabelle: Creation and IT Chapter One, before the movie was a certified hit, as well as the first teaser for The Nun. This year, the studios will be back with another round of terror, featuring previews of both IT Chapter 2 and extended scenes from this fall's forthcoming Conjuring universe spin-off The Nun.
This edition of ScareDiego (happening on Wednesday, July 18 at 9:30pm PT) doesn't sound quite as promising as last year, at least on the surface. Last year gave fans an exclusive, early screening of Annabelle: Creation. There's a chance that The Nun could have a full, early screening since it hits theaters on September 9, but that seems a little too early. At the very least, ScareDiego promises to show extended scenes from The Nun, likely with director Corin Hardy in attendance.
As for IT Chapter 2, it's hard to say what they'll have to show off. Deadline says ScareDiego will "provide fans with some early details" on the sequel from director Andy Muschietti. The film only just started shooting this week, but studios have brought footage from blockbusters to Comic-Con after only a few weeks of shooting before, so maybe they'll have a teaser to show off.
Furthermore, last year brought the young Losers' Club to the convention for an appearance, so maybe the adult crew will stop by to get fans excited. It would be pretty great to see Jessica Chastain, James McAvoy, Bill Hader, Jay Ryan, Andy Bean, James Ransone, and Isaiah Mustafa altogether, maybe with Bill Skarsgard too.
Beyond that, there are supposed to be some "surprise film announcements" (maybe another sequel or spin-off in The Conjuring universe) as well as certain filmmaker and cast appearances at the event. We'll be on hand to cover the event in San Diego, as well as all of the other exciting news and announcements that come out of the pop culture convention.