'Our House' Trailer: Bringing Parents Back From The Dead Is No Easy Task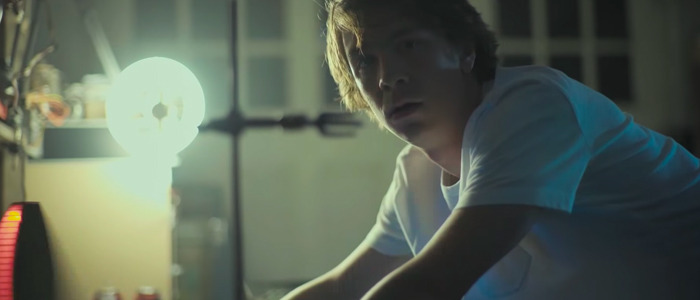 Science fiction and horror collide once again in Our House, a new "sci-fi skin-crawler" that tells the story of a brother and sister who, in an attempt to harness wireless electricity, accidentally unlock a doorway to the afterlife and bring their parents back from the dead. Unfortunately, the spirits that occupy their home aren't exactly happy about the family reunion – they're shadowy figures with smoky tendrils for fingers, and things seem to get spookier from there.
Our House Trailer
I was fully expecting a needle-drop of the ear-wormy 1982 "Our House" song by Madness, but that kind of head-boppy music does not even remotely match with the tone of this film. Maybe it'll be used ironically over the closing credits.
Our House marks the solo feature debut of director Anthony Scott Burns, who previously directed the "Father's Day" segment of the 2016 horror film Holidays. Burns also co-wrote a 2011 TRON fan film called TRON: Destiny, which he directed and served as the cinematographer, editor, producer, visual effects creator, compositor, animator, and sound designer. Oh, and if that wasn't enough, he created the music for the short, as well. Check it out below:
I've watched a ton of crappy fan films over the years, and this is not one of them. I don't know what Burns' budget was for this, but it was a hell of a lot less than Joseph Kosinski had for Disney's TRON: Legacy. That movie had all sorts of story problems, but it looked gorgeous; this one looks fairly comparable considering its limitations. Seeing this actually has me excited to see what Burns can do with a full-length feature.
Thomas Mann (Me and Earl and the Dying Girl) and Nicola Peltz (Transformers: Age of Extinction) star here. After dismissing Jack Reynor because of his involvement in that Transformers sequel and then seeing him in other things later and realizing he's actually a really solid actor, I won't make the same mistake with Nicola Peltz and judge her based solely on her work in that franchise. Hopefully she surprises people with her performance in this one.
When his parents are killed in a car accident, science whiz Ethan must leave behind college and his girlfriend to care for his younger brother and sister. By day, he juggles the responsibilities of raising two kids; by night, he tinkers in the garage on an invention he hopes will change the world: a machine that can generate wireless electricity.
He gets more than he bargained for, however, when the device awakens the dead souls that haunt the house. As Ethan and his siblings attempt to make contact with their parents, a horrifying realization sets in: not all the spirits in their midst may be friendly.
Our House arrives in theaters and VOD on July 27, 2018.