'In-Rang: The Wolf Brigade' Trailer: Kim Jee-Woon Adapts The Acclaimed Manga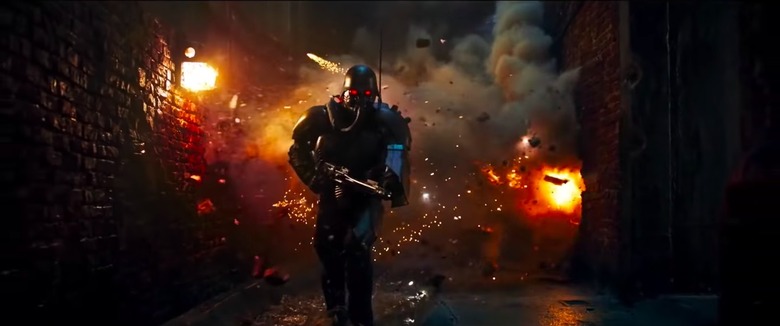 Maybe Hollywood has a problem adapting beloved anime and manga properties, but it looks like South Korea won't. The latest movie from acclaimed director Jee-Woon Kim (A Tale of Two Sisters, I Saw the Devil) is a remake of a classic manga series that has already seen three successful Japanese adaptations.
The title is probably best known as Jin-Roh: The Wolf Brigade, the classic 1999 anime film that still stands today as one of the seminal sci-fi films of the past few decades. Kim's adaptation renames it In-rang: The Wolf Brigade, and transplants Mamoru Oshii's classic sci-fi story to a near-future reunified Korea. The first international trailer has been released, and though it doesn't have subtitles, you don't need to know Korean to know that the film is going to be great.
In-rang The Wolf Brigade Trailer
Kim is one of the most exciting Korean filmmakers today, showing off a idiosyncratic visual flair that comes through in the In-rang: The Wolf Brigade trailer. Thanks to Kim's tense action set-pieces and stylish verve, the trailer successfully sweeps us up, even as we don't understand the dialogue.
In-rang: The Wolf Brigade takes place in a near-future Korea, where a reunified North and South Korea has caused political turmoil, forcing the South Korean police to launch a special unit to stop anti-reunification terrorist groups. It's a particularly timely setting given the Korea's current political negotiations, and a smart way to remake Oshii's story, which was originally inspired by the 1950s Japanese riots.
The film adapts Oshii's classic Kerberos saga manga series, which has been adapted multiple times to radio plays, books, movies, and manga, but only in its home country of Japan. In-rang: The Wolf Brigade is the first film to set the story in international waters, though it is the fourth feature film adaptation, after Oshii's live-action The Red Spectacles and StrayDog: Kerberos Panzer Cops released in 1987 and 1991, respectively, and the best-known 1999 Japanese anime Jin-Roh: The Wolf Brigade directed by Hiroyuki Okiura.
In-rang: The Wolf Brigade stars Gang Dong-won, Han Hyo-joo, Jung Woo-sung, with Kim Mu-yeol, Choi Min-ho, Han Ye-ri, Shin Eun-soo, and Choi Jin-ho, with the screenplay written by Kim.
Here is the official synopsis for In-rang: The Wolf Brigade:
Set in 2029 where South and North Korea get ready for a unified government after a seven year preparation period. South Korean police launches a special unit to stop an anti-reunification terrorist group called "Sect."
In-rang: The Wolf Brigade will be released in South Korean theaters on July 25, 2018. There is no set U.S. or international release date yet, but with the original film's devoted fanbase and Kim's strong international crossover appeal...stay tuned.