Fred Armisen Bringing 'Los Espookys' Spanish-Language Comedy Series To HBO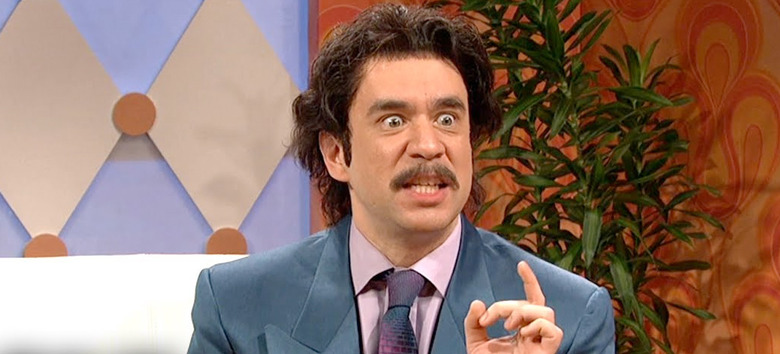 HBO is a prime destination for great comedy with shows like Silicon Valley, Veep, Curb Your Enthusiasm, The Larry Sanders Show and more in the cable network's roster. But their new collaboration with Fred Armisen and Saturday Night Live creator Lorne Michaels is something much different.
HBO has given the greenlight to a new half-hour comedy series called Los Espookys that will follow a group of friends in a strange and dreamy version of present-day Mexico turning their love for horror into a peculiar business. Sounds like your typical quirky comedy series from HBO, but what makes this one stand out is that it will be entirely in Spanish.
The Hollywood Reporter has news on Los Espookys, which will be written by Fred Armisen, working with series stars Ana Fabrega and Julio Torres. Armisen will also be executive producing the series along with SNL mastermind Lorne Michaels and Andrew Singer, and Fabrega and Torres are co-executive producing along with Alice Mathias. But it's Fernando Frias who will be directing the pilot.Bernardo Velasco will lead the series as Renaldo, the leader of the titular group. The characters is described as noble, kind, serene and obsessed with gore. But he's also always running out of minutes on his cell phone. Meanwhile, Cassandra Ciangherotti has an even more strange character named Ursula, a calm and collected dental assistant who provides teeth for the group's monsters.
As for co-writers Fabrega and Torres, they're playing ursula's sister Tati and Renaldo's best friend Andres, respectively. Tati is always juggling a bunch of different odd jobs like breaking in other people's shoes and testing child safety locks while Andres is a dark and mysterious heir to a chocolate empire.
Even though Armisen is predominantly working behind the scenes of the series, he'll also appear on the show occasionally as Renaldo's uncle Tico, who is living his dream of being a prodigious valet drive in Los Angeles.
All these character descriptions give us a clear idea of what that "strange and dreamy version of present-day Mexico" setting description is all about. It almost feels like a Portlandia version of Mexico. However, since it's in Spanish, I'm not sure if it'll have the same kind of appeal. Viewers are lazy and can often be turned off by subtitles. But maybe the involvement of Fred Armisen and the unique story angle can get audiences interested. At the very least, it will give Hispanic viewers a new comedy that will hopefully tap into their culture in a way that other shows do not.