'Conan' Returning To San Diego Comic-Con With 'The Predator, 'Glass,' 'Aquaman' Casts & More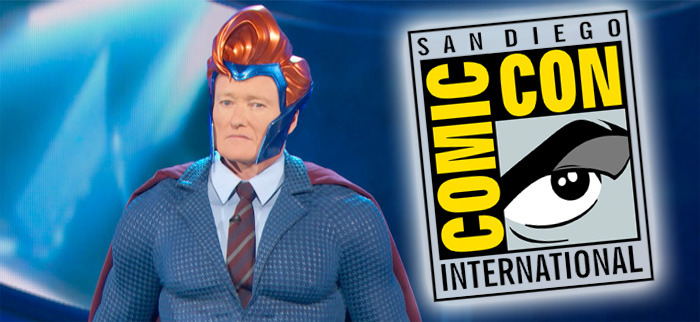 Conan O'Brien has made a tradition of coming to San Diego Comic-Con for a series of Conan episodes recorded straight from the center of the geeky action. This year he's keeping the tradition alive with a new round of episodes featuring some of Comic-Con's most anticipated attendees and movies. Find out the full line-up of Conan 2018 Comic-Con episodes below.
Conan's special San Diego Comic-Con shows will be recorded from Wednesday, July 18 through Saturday, July 21 and will air on Wednesday, Thursday, Saturday and Sunday that same week. All of the episodes will also be available on the TBS and Team Coco's digital, mobile and VOD platforms the following day. But who will be on these episodes?
Wednesday, July 18 – Breaking Bad Reunion – Guests: Bryan Cranston, Aaron Paul, Anna Gunn, Dean Norris, Betsy Brandt, RJ Mitte, Giancarlo Esposito, Bob Odenkirk and show creator Vince Gilligan
Thursday, July 19 – The Predator – Guests: Olivia Munn, Keegan-Michael Key, Sterling K. Brown, Thomas Jane, Trevante Rhodes, Alfie Allen, Augusto Aguilera, Jake Busey, Yvonne Strahovski and director Shane Black
Saturday, July 21 – Glass – Guests: Samuel L. Jackson, James McAvoy, Bruce Willis, Sarah Paulson, Anya Taylor-Joy and writer/director M. Night Shyamalan
Sunday, July 22 – Aquaman – Guests: To Be Announced
The guests of all these episodes will be appearing at Comic-Con on panels for each of these respective projects. The Breaking Bad reunion will be satisfying for fans who loved the AMC series, but the movies are even more anticipated because the panels are expected to show off footage from each of the films. In the cast of Glass and Aquaman, we'll be seeing the first trailers for those movies, and they'll presumably be available online right away too.
With these guests appearing on Conan, there's a good chance some other details about each of these projects will be revealed during the show as well. We'll definitely be keeping an eye on what comes out of these episodes, but more importantly, the /Film team will be on site at San Diego Comic-Con covering all the breaking news that comes out of one of the world's biggest pop culture conventions. We're there for the entire run of the convention, so stay tuned to find out what we see and hear about all of your favorite and most eagerly anticipated movies and TV shows.