'Better Call Saul' Season 4 Trailer: Jimmy McGill's Transformation Into Saul Goodman Is Nearly Complete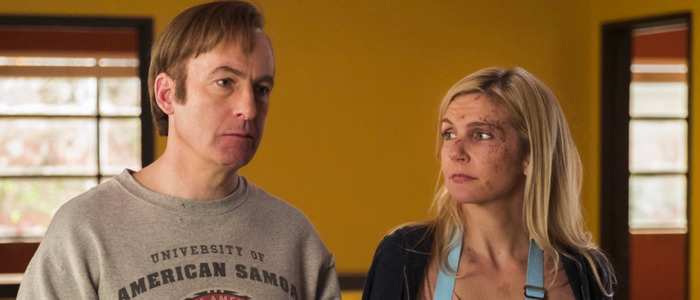 The Better Call Saul season 4 trailer is here, and it reveals that Jimmy McGill's transformation into Saul Goodman is nearly complete. The Breaking Bad spin-off series returns to AMC in August. Watch the trailer below.
Better Call Saul Season 4 Trailer 
For the first few season of Better Call Saul, we only caught glimpses of the shady lawyer Jimmy McGill would eventually become: Saul Goodman, first introduced in Breaking Bad. However, by the end of last season, it was clear that Saul Goodman was on the verge of taking over Jimmy McGill entirely. This new Better Call Saul season 4 trailer indicates that this is a trend that will continue, and even escalate, in the season to come. The character we see in this trailer has all the mannerisms and tics of Saul Goodman. The Jimmy McGill we got to know so well for the first three seasons might very well be dead and gone.
"I think this was the year we really saw Saul Goodman," Better Call Saul star Bob Odenkirk said at the end of season 3. "I don't know what happens next, but I think he's more than halfway there."
Beyond Jimmy's transformation, this trailer showcases that the upcoming season will be just as intense as previous ones. Rhea Seehorn's Kim Wexler seems particularly furious in one moment. At the same time, this trailer is wonderfully vague. It's not entirely clear what the story of season 4 will be, and I'm fine with that. The less I know, the more surprised I'll be after I watch. Jimmy lost his license to practice law last season, and it's clear his return to being a lawyer will play some part in this season. We'll also have more moments with Mike (Jonathan Banks) and his rise to becoming the right-hand man of drug kingpin Gus Fring (Giancarlo Esposito).
I've said it before and I'll say it again: I think Better Call Saul is a better show than Breaking Bad. The series took the foundation that Breaking Bad built, and turned it into something completely new, and exciting. I can't wait to see where it goes next.
Better Call Saul returns to AMC on August 6, 2018. Check out the full season 4 synopsis below.
In Better Call Saul's fourth season, Chuck's death catalyzes Jimmy McGill's transformation into Saul Goodman. In the wake of his loss, Jimmy takes steps into the criminal world that will put his future as a lawyer — and his relationship with Kim — in jeopardy. Chuck's death deeply affects former colleagues Howard (Patrick Fabian) and Kim as well, putting the two of them once again on opposite sides of a battle sparked by the Brothers McGill. While Mike takes a more active role as Madrigal Electromotive's newest (and most thorough) security consultant. It's a volatile time to be in Gus Fring's employ, as Hector's collapse sends shock waves throughout the Albuquerque underworld and throws the cartel into chaos — tearing apart both Gus and Nacho's well-laid plans. While Gus changes course, Nacho finds himself in the crosshairs of deadly forces.