'Men In Black' Spin-Off Cast Adds Kumail Nanjiani And Rafe Spall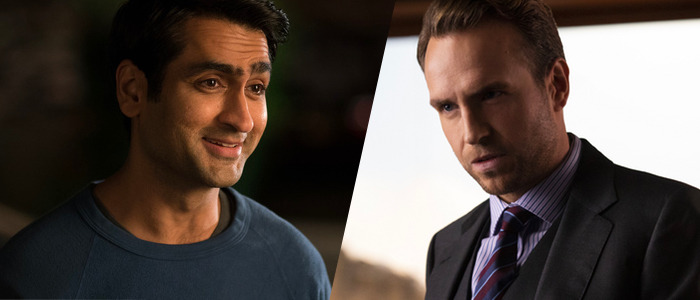 The Men In Black spin-off cast continues to grow. The film, which will essentially reboot the sci-fi comedy series, has just added The Big Sick's Kumail Nanjiani and Jurassic World: Fallen Kingdom's Rafe Spall. Chris Hemsworth and Tessa Thompson star.
No matter how the Men In Black spin-off turns out, one thing is for sure: it's going to have a cool cast. The Wrap is reporting that Kumail Nanjiani and Rafe Spall are the latest additions to the F. Gary Gray-directed film. Nanjiani has appeared in a slew of projects, including HBO's Silicon Valley, the sketch series Portlandia, and of course, The Big Sick – a film that earned Nanjiani a screenplay Oscar nomination along with wife Emily Gordon. Spall was recently seen in Jurassic World: Fallen Kingdom, and has also had roles in Hot Fuzz, The Big Short, Prometheus and Anonymous, where he played a handsome, dumb version of William Shakespeare. Also new to the cast: Laurent Nicolas Bourgeois and Larry Nicolas Bourgeois, known as Les Twins, French dancers, choreographers, producers who have also been backup dancers for Beyonce (which suggests there's going to be some sort of dancing in the movie, I guess?).
There's no word on who Nanjiani and Spall are playing, but they join a cast that includes Chris Hemsworth, Tessa Thompson and Liam Neeson. Hemsworth and Thompson, who appeared together in Thor: Ragnarok, are the leads of the film, taking over for previous Men In Black Will Smith and Tommy Lee Jones. Unlike the first Men In Black, which was focused solely on its two leads and stayed firmly rooted in New York City, this new Men In Black spin-off is being described as more of an ensemble piece with more of an international feel. Neeson will play the head of the Men in Black organization in London, where the story is set to begin.
Art Marcum and Matt Holloway, who wrote Iron Man, Punisher: War Zone and Transformers: The Last Knight, penned the script. The Men In Black franchise kicked-off in 1997 with the funny, special-effects driven first film directed by Barry Levinson. The first Men In Black came just at the beginning of Will Smith's explosion into superstardom, and ended up being a huge box office hit. After that came 2002's absolutely terrible sequel, Men In Black II. That seemed like the end of the series, but 2012 brought on Men In Black 3, which was surprisingly good (although not nearly as big a hit as the original).
This new Men In Black spin-off has a lot of promise. Ragnarok proved Hemsworth and Thompson have great, funny chemistry together, and if the script works, this entry could certainly breathe new life into the series.
The Men In Black spin-off opens June 14, 2019.