'Juliet, Naked' Trailer: Ethan Hawke And Rose Byrne Have A Rockstar Romance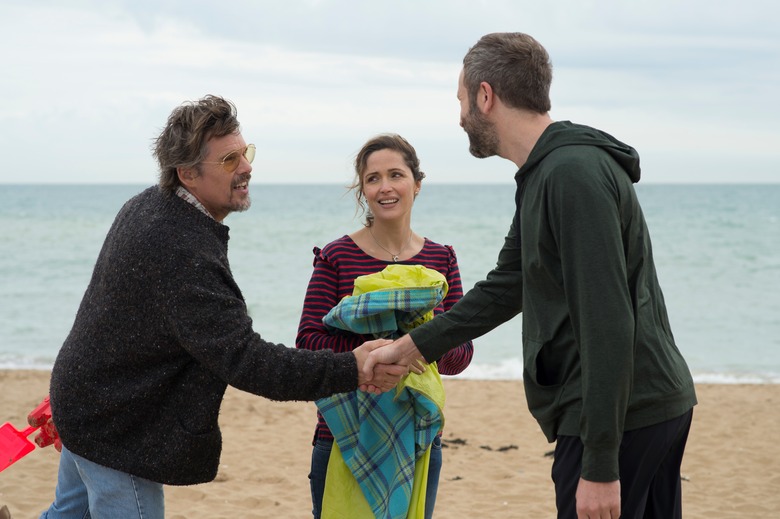 The summer of Ethan Hawke continues with Juliet, Naked.
Just three months after he played a morose preacher in First Reformed, Hawke is remind us of how much range he has by stepping back into his romantic-comedy leading man shoes. Hawke stars as an aging rock star who romances Rose Byrne, a woman who finds herself at a crossroads after spontaneously publishing a scathing music review.
Juliet, Naked Trailer
Based on Nick Hornby's book of the same name, Juliet, Naked looks like an absolutely delightful rom-com filled with talented, underrated actors. Rose Byrne plays Annie, a woman whose long-term relationship with Duncan (Chris O'Dowd), a man obsessed with obscure rocker Tucker Crowe, has reached a stalemate. But soon her life is sent into upheaval when Crowe reaches out to her after she publishes a scathing review of his album.
Yeah, Juliet, Naked seems by the numbers, and yeah hating on rom-coms is cool but Jesse Peretz's movie looks utterly charming. It has the credibility of being based on a Nick Hornby book, the author behind beloved romantic-comedies like High Fidelity, Funny Girl, and About A Boy. But I'm mostly here for the revival of the rom-com this summer, which is seeing a new wave of major releases like Netflix's hit Set It Up, the Winona Ryder and Keanu Reeves reunion rom-com Destination Wedding, and the highly anticipated Crazy Rich Asians.
Will Juliet, Naked be revolutionary? No, but I'm just excited to see Hawke back in the indie rom-com genre that gave us classics like the Before trilogy. Plus we got the undervalued Rose Byrne once again stealing all her scenes while Chris O'Dowd delivers more of his aw shucks charisma. What's not to love (except for maybe the bad poster)?
Here is the official synopsis for Juliet, Naked:
Annie (Rose Byrne) is stuck in a long-term relationship with Duncan (Chris O'Dowd) – an obsessive fan of obscure rocker Tucker Crowe (Ethan Hawke). When the acoustic demo of Tucker's hit record from 25 years ago surfaces, its release leads to a life-changing encounter with the elusive rocker himself. Based on the novel by Nick Hornby, JULIET, NAKED is a comic account of life's second chances.
Juliet, Naked will open in theaters on August 17, 2018.