'Mission: Impossible' Featurette Announces 'Fallout' Tickets Are Now On Sale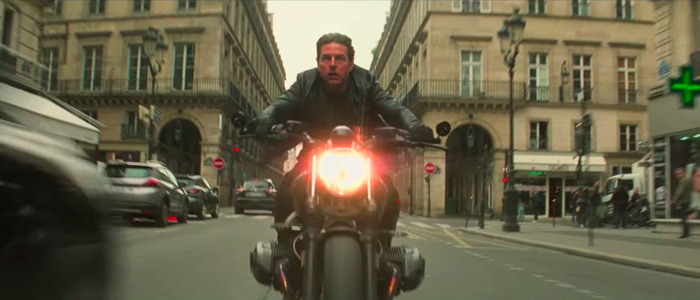 Your mission, should you choose to accept it, is to grab tickets for Mission: Impossible – Fallout, the latest film where Tom Cruise laughs in the face of death. Tickets for the spy-sequel are on sale right now, and there's a new behind-the-scenes featurette as well. Watch the Mission: Impossible featurette below.
Mission: Impossible Featurette 
#MissionImpossible Fallout is a "tougher mission," the "best Mission yet."

CAN'T WAIT! pic.twitter.com/bpjv1B7cA4

— Fandango (@Fandango) June 29, 2018
What's the best ongoing action franchise (that doesn't belong to Marvel)? Some might say Fast and the Furious, but for my money, the answer is Mission: Impossible. Somehow, the spy-thriller series has only gotten better with age, with each film improving on the last. The latest, Mission: Impossible – Fallout, looks thrilling, and once again features many scenes of Tom Cruise risking his life for our entertainment.
This featurette features the cast and crew hyping up the latest adventure. Henry Cavill (and his glorious mustache) calls it "the best Mission yet", while Simon Pegg talks about Cruise's increasingly dangerous stunt work. Cruise's death-defying stunts this time include jumping out of a plane at 25,000 feet, and also leaping from one building to another – a leap that Cruise actually missed during filming, breaking his ankle.
But no broken ankle is going to stop Tommy Cruise. He was back on his feet in no time, finishing up this movie, because he is a crazy person. It makes one wonder what Cruise will do next. How can he keep one-upping these stunts? Will he literally go into space for the next movie? Will he have his head surgically removed from his body, and then have it stitched back on? Will he brush his teeth and then drink a tall glass of orange juice? There's no telling what this madman will do.
In addition to the new featuertte, tickets for Mission: Impossible – Fallout are now on sale. You can scoop them up here.
In addition to Tommy Cruise, Henry Cavill and Simon Pegg, Mission: Impossible – Fallout stars Ving Rhames, Rebecca Ferguson, Sean Harris, Angela Bassett, Michelle Monaghan, and Alec Baldwin. Mission: Impossible – Rogue Nation filmmaker Christopher McQuarrie directs, making him the first director to return for more than one Mission film.
Mission: Impossible – Fallout opens on July 27, 2018.
The best intentions often come back to haunt you.  MISSION: IMPOSSIBLE – FALLOUT finds Ethan Hunt (Tom Cruise) and his IMF team (Alec Baldwin, Simon Pegg, Ving Rhames) along with some familiar allies (Rebecca Ferguson, Michelle Monaghan) in a race against time after a mission gone wrong. Henry Cavill, Angela Bassett, and Vanessa Kirby also join the dynamic cast with filmmaker Christopher McQuarrie returning to the helm.