'The Shining' Sequel 'Doctor Sleep' Adds 'Mission: Impossible' Star Rebecca Ferguson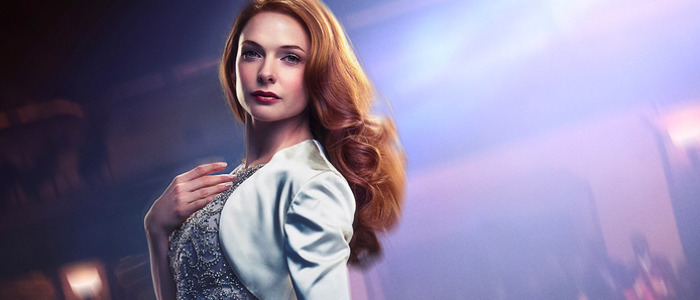 The Shining sequel Doctor Sleep is adding Mission: Impossible – Rogue Nation star Rebecca Ferguson to the cast. Ferguson will join co-star Ewan McGregor in the film based on the novel by Stephen King.Mike Flanagan's Doctor Sleep continues to attract exciting cast members. Variety is reporting that Rebecca Ferguson, who stole the show in Mission: Impossible – Rogue Nation and will next be seen in Mission: Impossible – Fallout, has joined the cast of the horror film. Doctor Sleep is based on the Stephen King novel of the same name, and is the official sequel to King's iconic The Shining.
Ferguson will star alongside Ewan McGregor. McGregor is playing the grown-up Danny Torrence, the kid with psychic abilities from The Shining. At this time, it's not clear which character Ferguson is playing, but there are several possibilities:
Rose the Hat – the antagonist of King's novel. She's the leader of a gang of "psychic vampires" who roam the country feeding on the minds of children who happen to have "the shining", aka psychic abilities.
Lucy Stone – Danny Torrence's half-sister. It's revealed in Doctor Sleep that Danny's father Jack Torrence had an affair with a woman named Sandy Reynolds. Sandy gave birth to a daughter – Lucy. Lucy, in turn, later gave birth to a daughter named Abra. Abra is the main target of Rose the Hat in the novel.
Sandy Reynolds – see above.
A brand new character – there's always a chance that Flanagan's film will veer off from King's novel and introduce a brand-new character.
If Ferguson is playing a character from the novel, I'm hoping it's Rose the Hat, simply because the other two mentioned characters are both dead for most of the events of the novel. It would be a shame to waste Ferguson on a throwaway part like that. Of course, if I'm being honest, I hope Ferguson is playing a brand-new character because I really want Mike Flanagan to stray away from King's novel as much as possible. I'm a huge King fan, and I like or love the majority of his books, but Doctor Sleep is one of the worst things he's ever written. Here's the book's synopsis.
On highways across America, a tribe of people called The True Knot travel in search of sustenance. They look harmless—mostly old, lots of polyester, and married to their RVs. But as Dan Torrance knows, and tween Abra Stone learns, The True Knot are quasi-immortal, living off the "steam" that children with the "shining" produce when they are slowly tortured to death.
Haunted by the inhabitants of the Overlook Hotel where he spent one horrific childhood year, Dan has been drifting for decades, desperate to shed his father's legacy of despair, alcoholism, and violence. Finally, he settles in a New Hampshire town, an AA community that sustains him, and a job at a nursing home where his remnant "shining" power provides the crucial final comfort to the dying. Aided by a prescient cat, he becomes "Doctor Sleep."
Then Dan meets the evanescent Abra Stone, and it is her spectacular gift, the brightest shining ever seen, that reignites Dan's own demons and summons him to a battle for Abra's soul and survival. This is an epic war between good and evil, a gory, glorious story that will thrill the millions of hyper-devoted readers of The Shining and wildly satisfy anyone new to the territory of this icon in the King canon.
It will be interesting to see how Flanagan approaches this film overall. I'd argue that the majority of the movie-going public knows The Shining from Stanley Kubrick's film adaptation. But Kubrick's film famously (or infamously, if you ask Stephen King) changed most of King's story. Will Flanagan's Doctor Sleep serve as more of a sequel to Kubrick's film, or will it serve as a sequel to King's novel? Time will tell.
Doctor Sleep opens on January 24, 2020.Update: Director Mike Flanagan has confirmed that Ferguson is indeed playing Rose the Hat:
Rose 🎩 https://t.co/7aPes36D9E

— Mike Flanagan (@flanaganfilm) June 28, 2018