'The Purge' TV Show Trailer: Who Will Survive And What Will Be Left Of Them?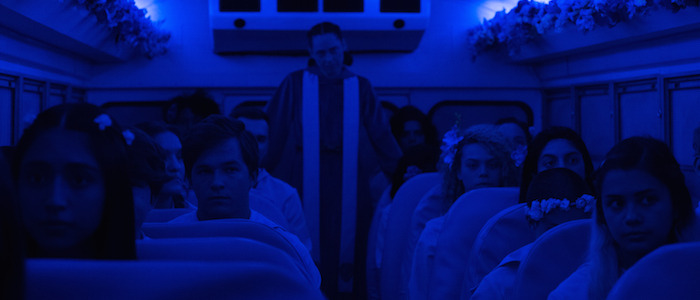 Blumhouse is adapting their popular Purge film series to TV, bringing Purge Night to the small screen. Each episode of USA's The Purge TV series will focus around the dangerous hours of Purge Night, when all crime is legal in near-future, dystopian America. Watch The Purge TV show trailer below.
The Purge TV Show Trailer
Blumhouse and Universal have turned the Purge series into a huge hit, and now they want to emulate that success on TV. The Purge TV series will hit USA this September, and focuses on several character trying to get through Purge Night alive. The show revolves around "a 12-hour period when all crime, including murder, is legal. Set in an altered America ruled by a totalitarian political party, the series follows several seemingly unrelated characters living in a small city. As the clock winds down, each character is forced to reckon with their past as they discover how far they will go to survive the night."
The show appears to be following the 24 model, with each episode focused on a particular hour during Purge Night. That has a lot of potential, as long as the showrunners can find a way to keep us interested. While I like the concept of The Purge films, their execution (no pun intended) has left me cold. Perhaps it's because the films only seem to focus on the murder side of Purge Night. If all crime is legal in this period, why not focus on some other major crimes as well? Perhaps the show will embrace this angle.
The Purge stars Gabriel Chavarria as Miguel, a US Marine who returns home on Purge Night after receiving a cryptic message from his sister, Penelope, played by Jessica Garza. Other cast members include Amanda Warren, Colin Woodell, Lili Simmons, Hannah Anderson, Lee Tergesen, William Baldwin and Fiona Dourif.
The series is written and executive produced by film franchise creator James DeMonaco and led by producer Jason Blum. The entire team behind the film franchise is on board to executive produce: Michael Bay with Brad Fuller and Andrew Form under the Platinum Dunes banner and Sebastien K. Lemercier. Thomas Kelly serves as executive producer/showrunner of the series. Anthony Hemingway directs and executive produces the premiere episode.
This is one of two Purge-related projects arriving this year. The Purge prequel The First Purge will hit theaters next week.
The Purge TV show premieres on Tuesday, September 4 at 10/9c on USA Network.