'Mortal Engines' Featurette Takes You To A World You've Never Seen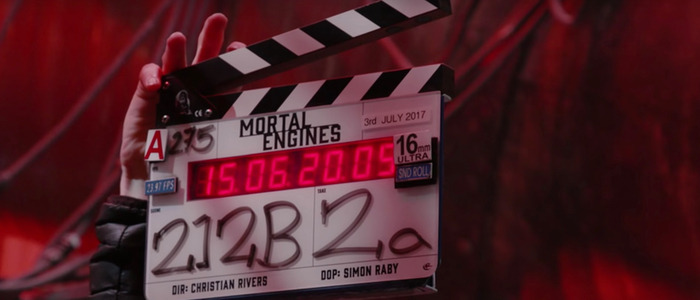 A new Mortal Engines featurette takes you behind the scenes of the Peter Jackson produced film, introducing you to the characters and the epic scope of the post-apocalyptic story. Watch the Mortal Engines featurette below. 
Mortal Engines Featurette 
After the Harry Potter films became so huge, studios were engaged in a mad blitz to adapt more and more YA books to the big screen. It didn't always work out well. In fact, most of the YA film adaptations were duds, save for outliers like The Hunger Games. The YA craze died down a bit in recent years, but now, Peter Jackson might be able to breathe new life into the genre with Mortal Engines. Jackson wrote the script with his Lord of the Rings team Fran Walsh and Philippa Boyens, with Christian Rivers directing. Interestingly, this film looks to distance itself from its YA roots, aging up the teenage characters into adults.
Mortal Engines is set "thousands of years after civilization was destroyed by a cataclysmic event," in a time where "humankind has adapted and a new way of living has evolved. Gigantic moving cities now roam the Earth, ruthlessly preying upon smaller traction towns. Tom Natsworthy (Robert Sheehan)—who hails from a Lower Tier of the great traction city of London—finds himself fighting for his own survival after he encounters the dangerous fugitive Hester Shaw (Hera Hilmar). Two opposites, whose paths should never have crossed, forge an unlikely alliance that is destined to change the course of the future."
The film looks suitably epic, and this new featurette gives you a good glimpse into the production. /Film's Jacob Hall traveled to the Mortal Engines set last year, and was very impressed with what he saw, writing: "Mortal Engines looks to be less of a direct adaptation of the book and more of a wider and wilder exploration of the source material's thrilling world-building. And that is very exciting."
During the set visit, Peter Jackson said:
"It's a love story. It's an unlikely love story. It's, you know, about a young woman who doesn't really think that she will ever find love and she finds it through a very unexpected way in the middle of all this chaotic strange world that we're in. And I also just like the idea of seeing big cities eat other."
Jackson also talked about wanting this film to launch a franchise:
"This is one movie that I hope is successful enough that we get to do the other stories because the other books are really...I mean, it just gets...you know, this story mushrooms in such unexpected ways in the future books. So, I really hope we get to make those films."
Mortal Engines opens on December 14, 2018.