'Mile 22' Trailer: "Failure Is Not An Option" For Mark Wahlberg In This Action Thriller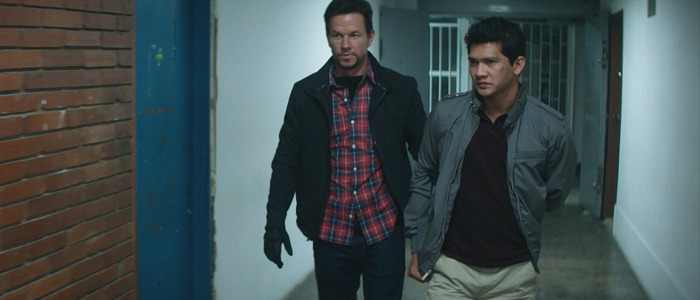 Remember 16 Blocks, the 2006 film in which a cop (Bruce Willis) had to drag a testifying witness (Mos Def) to safety over that distance? Well, a new action movie is here to put that film to shame. 16 blocks? Pfft. How about 22 miles, motherf*cker? Lone Survivor director Peter Berg re-teams with his favorite lead actor Mark Wahlberg for Mile 22, an action thriller that sees Wahlberg and his CIA squad trying to transport a foreign agent (The Raid star Iko Uwais) across the mean streets of Bogata, Colombia.
Check out the new red-band Mile 22 trailer below.
Mile 22 Trailer
Man, they're not leaving much to the imagination with this trailer, are they? It takes us through what I'm guessing is 90% of the plot, and showcases some intense action along the way. There's the typical shootouts that one would expect in a modern thriller like this, John Malkovich with an astonishingly weird haircut, head stabbings, explosions galore, a missile called the "Hand of God," and Marky Mark speaking with a thick Boston accent.
But amid all the chaos, the thing that actually makes me want to see this movie is watching The Raid's Iko Uwais deliver some bone-crunching martial arts action. The scene where he walks backwards up the wall and fights off a bunch of dudes after being thrown through a pane of glass? That's pretty awesome, and further cements Uwais as the heir apparent to superstars like Tony Jaa. But my hesitation is that because this trailer gives away so much, I'm a little concerned we've already seen the best this film has to offer.
Side note: we're still doing the thing where we subtly demonize foreigners and people of color under the guise of patriotism in movies, huh? Gotcha. Just checking. Moving on, I guess.
For much more information about Mile 22, be sure to check out our extensive set visit coverage and interviews with co-stars Lauren Cohan and Ronda Rousey.
In a visceral modern thriller from the director of Lone Survivor, Mark Wahlberg stars as James Silva, an operative of the CIA's most highly-prized and least understood unit. Aided by a top-secret tactical command team, Silva must retrieve and transport an asset who holds life-threatening information to Mile 22 for extraction before the enemy closes in.
Mile 22 arrives in theaters on August 17, 2018.