'Ant-Man And The Wasp' Review: Marvel Delivers A Fun And Funny Palate Cleanser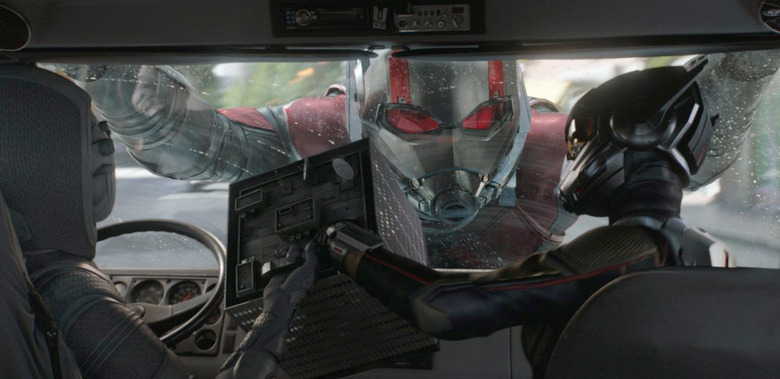 Though it feels like roughly two decades have passed since April, it's only been two months since the release of Avengers: Infinity War, the first part of a two-part capper to the current Marvel Cinematic Universe. Infinity War ended grimly enough, even though there's next to no doubt that much of its tragedy will be undone at some point in the conclusion next May. It's a pleasant surprise that the specter of that dark cliffhanger doesn't hover over Marvel's latest, Ant-Man and the Wasp, which smoothly course-corrects from its 2015 predecessor while keeping things low-key.
When the new film begins, Scott Lang (Paul Rudd) is three days from the end of a two-year house arrest, the result of helping out Captain America (or "Cap" to friends like Scott) during Captain America: Civil War. Just as his house arrest is winding down, Scott experiences a mysterious vision of the long-missing Janet Van Dyne (Michelle Pfeiffer) stuck in the phantasmagoric Quantum Realm. As luck would have it, Scott's old cohorts Hank Pym and Hope Van Dyne (Michael Douglas and Evangeline Lilly) are still looking for Janet, and recruit Scott to help even as they get hunted by a strange, plane-shifting figure (Hannah John-Kamen) and a smooth-talking black-market entrepreneur (Walton Goggins).
The stakes in Ant-Man and the Wasp are exceedingly low, a welcome contrast to Infinity War as well as many other MCU movies. What's more, the tone is even looser than that of the original film; to wit, at one point, Scott and Hope desperately try to...procure a chintzy trophy from his daughter's backpack at elementary school. That's the level at which most of the film operates: the characters' lives are in peril, but in cheerfully ridiculous fashion. With Peyton Reed returning as director, Ant-Man and the Wasp is consistently light and moderately funnier. The script — credited to five writers, including Rudd — thankfully introduces a lot of new humor, while judiciously bringing back the uproarious running gag in which Scott's ex-con pal Luis (Michael Pena) recounts past stories in a meandering but fast-paced fashion.
The film's first major weakness is one that far too many films suffer from: not enough Michelle Pfeiffer. For much of Ant-Man and the Wasp, Janet Van Dyne is less of a character and more of a MacGuffin. Through the same de-aging CGI that was displayed in the first Ant-Man, we get to see younger versions of Douglas, Pfeiffer and even Laurence Fishburne (playing one of Hank's old S.H.I.E.L.D. colleagues). However, Pfeiffer's presence outside of the prologue is cruelly brief. Other than that, if the film struggles, it's via another Marvel cliché: the not-terribly memorable antagonist: John-Kamen's Ghost, While Ghost's backstory is tragic, and John-Kamen tries to juice the character up with charisma and unpredictability, the script doesn't give her a personality to match.
What works best for Ant-Man and the Wasp is the second half of that title. Ant-Man ended in a slightly sheepish manner, acknowledging how silly it is to have an actress as charming and dynamic as Evangeline Lilly near the top of the call sheet without getting her in a super-suit. The sequel wastes very little time in having Hope don the powerful Wasp suit; the first action sequence almost entirely belongs to her, without any running commentary from male characters about how badass she is. (We do get one comment like that from Pena, but it at least fits his wide-eyed character to verbally gawk at the Wasp.) As much as Scott Lang was our entrée into the world of Ant-Man, this sequel eases him away from holding the spotlight on his own, quite comfortably. And Rudd, thankfully, gets a few more moments to be silly, as in an early montage where we see how Scott tries to entertain himself on house arrest.
The looseness of Ant-Man and the Wasp — even the way that Goggins' baddie is introduced is charmingly offbeat, at least relative to his character's greed — is a solid rejoinder to the events of Avengers: Infinity War, which almost makes its presence a bit more frustrating. Clearly, Marvel can make palate cleansers like this without overloading them with portent and pomposity. In some ways, the goofy Ant-Man and the Wasp feels more like Marvel's wheelhouse as opposed to the strained self-seriousness of Infinity War and its monstrous baddie Thanos. It might be hard to imagine an Avengers movie where one of the heroes shrinks and expands to impossible sizes, and drives cars that are housed in a Hot Wheels accessory, but that's a lot more fun than what transpired just two months ago. The good news is, Ant-Man and the Wasp is better than the first film. The bad news is, we've still got the second Infinity War to deal with, and even this movie can't make you forget that entirely.
/Film Rating: 7.5 out of 10