Cool Stuff: Iron Man Gets TRON Armor In Hot Toys Neon Tech Mark IV Armor Figure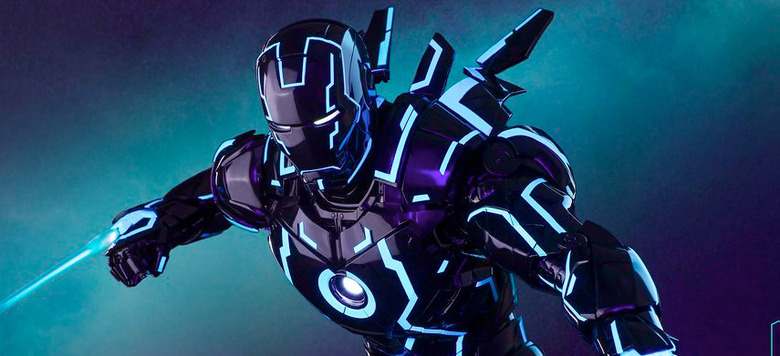 Iron Man 3 introduced us to an endless array of different kinds of armor that Tony Stark built for himself. Many of them have been turned into Hot Toys collectible figures over the years, but the latest installment of a new Iron Man armor collectible is actually inspired by Iron Man 2.
Hot Toys has unveiled a summer convention exclusive of the sixth scale Neon Tech Iron Man Mark IV armor. That's probably not familiar to Marvel fans simply because it's a suit that doesn't exist in the movies. But as you can see in the photo above, it might as well be a Marvel and Disney crossover since Iron Man looks like he's entered the grid from TRON Legacy.
Hot Toys Neon Tech Iron Man Figure
Here's what the official press release has to say about the Hot Toys Neon Tech Iron Man:
Iron Man has always been the fan favorite armored super hero in the Marvel Cinematic Universe! As a special edition release, Hot Toys has pushed the boundaries of possibility and re-imagines the tech-forward suit of armors in bright neon color with scenes of electro futurism inspired by modern computer technology. Based on the blueprint of Mark IV, the newly developed Neon Tech Iron Man demonstrates not only the harmonious interaction between sophisticated device and advanced weapon, but also the visually striking armor that reflects the passion and craft of neon culture.
Crafted with phenomenal details that astonish fans with its high level of authenticity, the over 32cm tall diecast Neon Tech Iron Man Mark IV collectible figure has an array of features including movie-accurate proportion and highly detailed armor design with fully enhanced articulations, specially applied shiny black and teal colored armor with luminous reflective patterns appearing under specialized LED light, LED light-up functions on eyes, palms, lower chest and forearms, two sets of interchangeable forearm armor, a pair of attachable lasers, a specially designed hexagonal figure stand with graphic card.
This particular collectible will be a little difficult to get ahold of, because you'll have to pick it up at the Hot Toys Flagship Store in Shanghai Disneytown Lakeshore or the Hot Toys Booth at CCG Expo 2018. There's no word on price yet, but you can stay tuned to the Hot Toys Facebook page for more details.