New 'Double Dare' Will Reunite Kenan Thomson And Kel Mitchell This Summer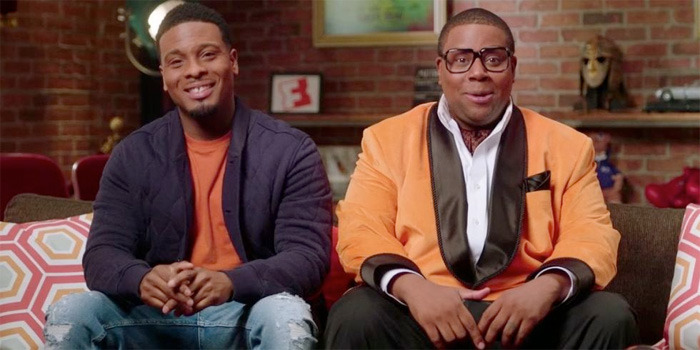 If the return of the Nickelodeon game show Double Dare wasn't enough of a trip down nostalgia lane for you children of the 1990s, we've got some exciting news.
The revival of Double Dare started airing on Nickelodeon last night, bringing back all the trivia, physical challenges and family fun you remember. But later this summer, a special episode will bring back some of Nickelodeon's most beloved stars, and they'll be getting down and dirty in the game show just like all the other contestants. Kenan Thompson and Kel Mitchell will return to Nickelodeon to compete against each other on the show.
Kenan and Kel on Double Dare
Kel Mitchell posted the above video to Instagram (via Deadline) wearing the signature blue t-shirt with the Double Dare logo on it, as well as the traditional safety goggles and helmet. And then out of nowhere, Kenan Thompson appears in a red Double Dare t-shirt with safety goggles of his own. Will the two be teamed up with a couple other Nickelodeon stars or will they be teamed up with other regular contestants? All That co-star Lori Beth Denberg is slated to make an appearance, so either option is possible.
Nickelodeon has been promoting their Double Dare reboot all over the place, including having a messy version of the online live quiz show HQ on mobile devices with special guest co-host Marc Summers delivering some pie and slime to regular host Scott Rogowsky.
The new Double Dare isn't really much different from the original, although it does have a new host in the form of YouTube star Liza Koshy, with color commentary provided by Marc Summers. The show has two teams competing to win prizes by answering trivia questions and partaking in super messy physical challenges involving water, uncooked rice, green slime, whipped cream, and milk. In the end, the team that comes out on top earns the opportunity to run through an obstacle course featuring a human hamster wheel, a sundae slide, a wringer, a giant gumball machine, a massive peanut butter and jelly sandwich, the famous giant nose that has to be picked, and more.
The Double Dare reboot has an order for 40 new episodes that will be airing all summer. The show will have some other blasts from the past yet to be revealed, so I wouldn't be surprised if more Nickelodeon stars make cameos throughout the season. The Double Dare reboot premiered last night and airs every weeknight.