'Mystery Science Theater 3000' Going On Tour Again, And Joel Hodgson Is Riffing This Time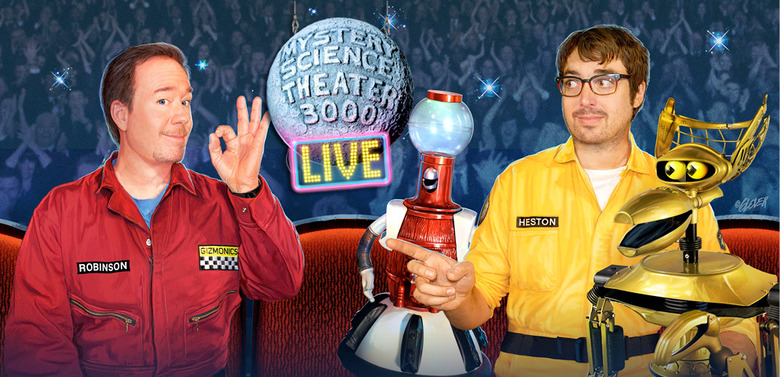 Last year, to celebrate the return of Mystery Science Theater 3000, the movie-mocking comedy series went on tour across the country with new host Jonah Ray and his robot companions Tom Servo and Crow T. robot. The series revival has yet another season on the way, but this year they have even more to celebrate.
This year marks the 30th anniversary for Mystery Science Theater 3000, so the show is going on another celebratory live tour with two entirely new movies to make fun of. And what's even better about the new live tour is that series creator and original host Joel Hodgson will be getting back into his red jumpsuit alongside Jonah Ray this time. Find out when and where you can catch the Mystery Science Theater 3000 live tour below.
Mystery Science Theater 3000 Live Tour Teaser
As you can see, the big selling point for this live tour is the fact that Joel Hodgson is suiting up again for the first time in 25 years. Hodgson accompanied Jonah Ray and the rest of the gang on the live tour last year, but he didn't join in on the movie riffing. Hodsgon says:
"The craziest and most exciting thing for me is that I am putting on my old jumpsuit and will be riffing live, shoulder to shoulder with Jonah, Crow, and Tom Servo for two incredibly strange feature films. I'm going to have to go into training to get caught up to the skill level of Jonah and this new cast. If you saw last year's tour you have some idea just how talented these young movie riffers are."
So this is kind of a big deal. Is that why the tickets are significantly more expensive this year? At my closest, preferred venue, the Athenaeum Theatre in Chicago the balcony seats are a little over $50, but the main floor seats range from $103 to $303. And as much as I love MST3K, I certainly don't want to spend $50 on balcony seats. Plus, if you're a hardcore fan, you'd like want to double your fun because, at most of the tour stops, they're doing two separate, unique shows.
Many of the Mystery Science Theater 3000 live tour stops will feature shows for two movies that haven't been made fun of on the show before. The first one is The Brain, a Canadian science fiction suburban nightmare, and the other is Deathstalker, a fun sword and sandal epic with a horrible monster.
Having attended both shows that Mystery Science Theater 3000 put on live last year, I can tell you that the show is certainly worth the money if you've got the extra cash. It's quite the fun experience to have with a crowd. Here are all the dates below, but tickets have apparently been on sale since earlier this month (you can buy them over here), so you'll want to look into whether or not there are still good seats available.
Mystery Science Theater 3000 30th Anniversary Tour:
10/09 – Portland, ME @ State Theatre (The Brain – 7:30 PM)
10/10 – Boston, MA @ Shubert Theatre (The Brain – 7:30 PM)
10/11 – Boston, MA @ Shubert Theatre (Deathstalker – 7:30 PM)
10/12 – Washington, DC @ Lisner Auditorium (The Brain – 7:00 PM)
10/12 – Washington, DC @ Lisner Auditorium (Deathstalker – 10:00 PM)
10/13 – New Haven, CT @ College Street Music Hall (The Brain – 7:00 PM)
10/14 – New York, NY @ Playstation Theater (The Brain – 3:00 PM)
10/14 – New York, NY @ Playstation Theater (Deathstalker – 7:00 PM)
10/16 – Norfolk, VA @ Harrison Opera House (The Brain – 7:30 PM)
10/17 – Durham, NC @ Durham PAC (Deathstalker – 7:30 PM)
10/19 – Ft. Lauderdale, FL @ Parker Playhouse (The Brain – 7:00 PM)
10/20 – Orlando, FL @ Hard Rock Café (The Brain – 4:00 PM)
10/20 – Orlando, FL @ Hard Rock Café (Deathstalker – 8:00 PM)
10/21 – Atlanta, GA @ Atlanta Symphony Hall (The Brain – 3:00 PM)
10/21 – Atlanta, GA @ Atlanta Symphony Hall (Deathstalker – 7:00 PM)
10/24 – Cincinnati, OH @ Taft Theatre (The Brain – 7:30 PM)
10/25 – Cleveland, OH @ Agora Theater (Deathstalker – 7:30 PM)
10/26 – Glenside, PA @ Keswick Theatre (The Brain – 7:00 PM)
10/26 – Glenside, PA @ Keswick Theatre (Deathstalker – 10:00 PM)
10/27 – Wilkes Barre, PA @ F.M. Kirby Center (The Brain – 5:00 PM)
10/28 – Royal Oak, MI @ Royal Oak Music Theatre (The Brain – 3:00 PM)
10/28 – Royal Oak, MI @ Royal Oak Music Theatre (Deathstalker – 7:00 PM)
10/30 – St. Louis, MO @ Peabody Opera House (The Brain – 7:30 PM)
10/31 – Nashville, TN @ War Memorial (The Brain – 7:30 PM)
11/02 – Dallas, TX @ Majestic Theatre (The Brain – 7:00 PM)
11/02 – Dallas, TX @ Majestic Theatre (Deathstalker – 10:00 PM)
11/03 – Houston, TX @ Cullen Performance Hall (The Brain – 7:00 PM)
11/04 – Austin, TX @ Paramount (The Brain – 3:00 PM)
11/04 – Austin, TX @ Paramount (Deathstalker – 7:00 PM)
11/06 – Los Angeles, CA @ The Novo (The Brain – 7:00 PM)
11/07 – San Francisco, CA @ Warfield Theatre (The Brain – 8:00 PM)
11/08 – San Jose, CA @ National Civic (Deathstalker – 7:30 PM)
11/09 – Portland, OR @ Arlene Schnitzer Concert Hall (The Brain – 7:00 PM)
11/09 – Portland, OR @ Arlene Schnitzer Concert Hall (Deathstalker 10:00 PM)
11/11 – Seattle, WA @ The Moore Theatre (The Brain – 3:00 PM)
11/11 – Seattle, WA @ The Moore Theatre (Deathstalker – 7:00 PM)
11/13 – Boulder, CO @ Macky Auditorium (The Brain – 7:30 PM)
11/15 – Milwaukee, WI @ Riverside Theater (The Brain – 7:30 PM)
11/16 – Chicago, IL @ Athenaeum (The Brain – 7:00 PM)
11/16 – Chicago, IL @ Athenaeum (Deathstalker – 10:00 PM)
11/17 – Minneapolis, MN @ State Theatre (The Brain – 7:00 PM)
11/17 – Minneapolis, MN @ State Theatre (Deathstalker – 10:00 PM)