'Ant-Man And The Wasp' TV Spot: Michelle Pfeiffer Rocks Feathered Hair As Janet Van Dyne In Flashback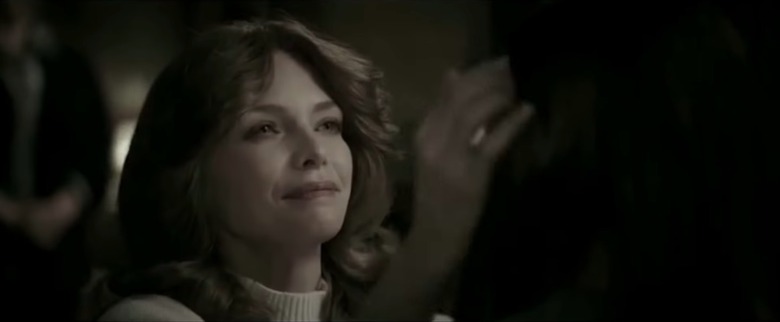 Though she has her own character poster and plays a pivotal role in the plot of Ant-Man and the Wasp, Michelle Pfeiffer has been conspicuously missing from the Marvel movie's marketing. But now Pfeiffer makes her first on-screen appearance in a new Ant-Man and the Wasp TV spot, rocking feathered hair and the same digital de-aging technology that Michael Douglas famously sported in 2015's Ant-Man. But because it's Michelle Pfeiffer, she totally pulls it off.
Ant-Man and the Wasp TV Spot
As we near the release date for Ant-Man and the Wasp, the marketing has become progressively less secretive when it comes to the plot. The villain's mysterious Big Bad, Ghost, has received the spotlight in various TV spots, and Janet van Dyne has been revealed to be alive and well thanks to a series of character posters for the Marvel sequel. And while earlier the movie marketing may have balked at mentioning Janet van Dyne at all, she finally appears in full flashback glory in the latest Ant-Man and the Wasp TV spot.
It's a blink-and-you'll-miss it moment, but there Janet van Dyne is, caressing her daughter Hope's face in a flashback that takes place before she disappears into the Quantum Realm. Brief glimpses of the scene where she gets lost in the Quantum Realm play out before Hank Pym (Douglas) declares that they will rescue her from the pocket dimension. To which Scott Lang (Paul Rudd) and Hope (Evangeline Lilly) heartily agree.
We've known that was the focus of the sequel for awhile, but otherwise we still remain mostly in the dark about Ant-Man and the Wasp's story. Let's hope that future TV spots will show us older Janet in her full Wasp get-up like we saw in her poster. Because as much as I love feathered hair on Pfeiffer, I want to see her as a superhero even more.
Peyton Reed returns to direct Ant-Man and the Wasp, which also stars Michael Peña, Walton Goggins, Bobby Cannavale, Judy Greer, Tip "T.I." Harris, David Dastmalchian, Hannah John-Kamen, Abby Ryder Fortson, Randall Park, and Laurence Fishburne.
Ant-Man and the Wasp opens in theaters on July 6, 2018.
Scott Lang is grappling with the consequences of his choices as both a superhero and a father. Approached by Hope van Dyne and Dr. Hank Pym, Lang must once again don the Ant-Man suit and fight alongside the Wasp. The urgent mission soon leads to secret revelations from the past as the dynamic duo fi

nds itself in an epic battle against a powerful new enemy.