Rumor: 'Star Wars: Episode 9' Might Bring Back Ewan McGregor As Obi-Wan Kenobi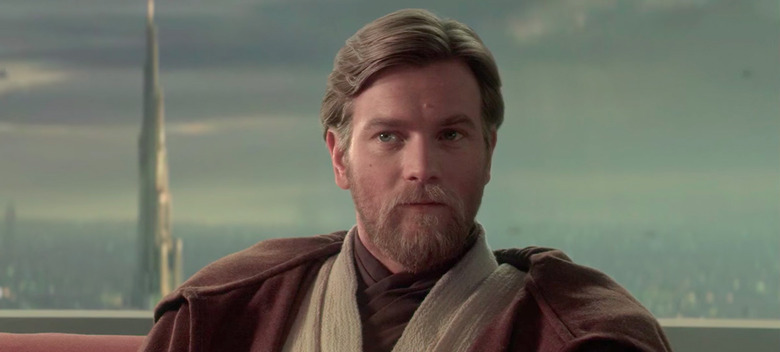 With the future of Star Wars spin-off movies up in the air, some of the legacy characters from the Star Wars saga who were meant to get their own installments in the Star Wars Story banner are left in limbo. However, a new rumor indicates that one of the characters rumored to have his own Star Wars spin-off might make a return to the primary saga.
A new rumor, which should be taken with a huge grain of salt, indicates that Star Wars prequel trilogy star Ewan McGregor may secretly shoot a role for Star Wars Episode 9. That might sound ludicrous at first, but there are plenty of ways for Ewan McGregor to come back for the final installment of the Skywalker saga.
First of all, let's just acknowledge that this rumor comes from The Sun, a notoriously gossipy tabloid. However, considering all the rumblings about Obi-Wan Kenobi's return to the big screen and Ewan McGregor's continued presence around the Star Wars saga, it doesn't sound quite as unreasonable as you might think.
The details of what Ewan McGregor's role as Obi-Wan Kenobi in Star Wars Episode 9 might entail are almost non-existent. The Sun has merely heard from a source that McGregor will "secretly film" for the next Star Wars movie. So let's talk about how this might be possible.
We know there was an Obi-Wan Kenobi movie in the works with The Hours director Stephen Daldry attached to direct. But apparently that movie, along with a film about Boba Fett, is being reconfigured in the wake of the disappointing box office performance of Solo: A Star Wars Story.
That project would have served as an interesting cover for the actor to shoot a role for Episode 9, but it also makes it possible that the source of this rumor got their wires crossed and they merely heard about McGregor returning for his on spin-off, which could have been the next installment of the Star Wars Story banner.
What If This Rumor is True?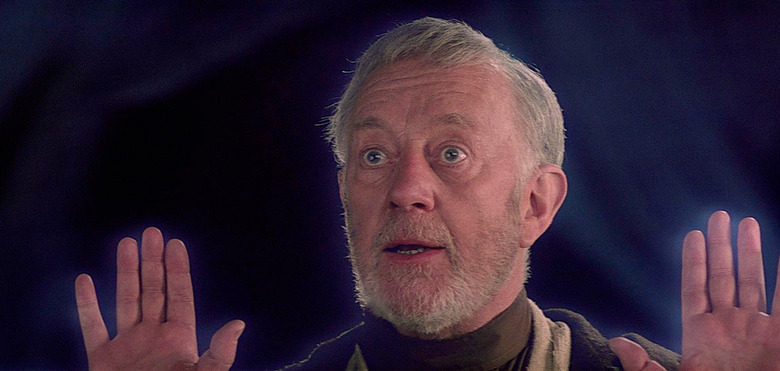 But let's pretend that this rumor is true. How would Ewan McGregor return as Obi-Wan Kenobi? While the Jedi might be dead, fans know he returned as a Force ghost to offer further guidance alongside Yoda in both The Empire Strikes Back and Return of the Jedi. There's a chance that Ewan McGregor could be seen in Episode 9 as a Force ghost. With some make-up, he could be made to look like old Obi-Wan Kenobi.
However, that might be a bit jarring since we've already seen Alec Guinnes as old Obi-Wan Kenobi. Then again, we also knew what young Han Solo looked like, and that didn't stop Lucasfilm from casting Alden Ehrenreich as the smuggler. So it's not out of the realm of possibility. If the idea of McGregor playing the older Obi-Wan Kenobi seems weird to you, there is another way the actor could appear. In fact, it's the same way that he made a surprise appearance in The Force Awakens.
You might remember that the voice of Ewan McGregor as Obi-Wan Kenobi was used with archived audio of Sir Alec Guinness and re-recorded dialogue from Frank Oz as Yoda for the Force vision sequence in Star Wars: The Force Awakens. So there's a chance that McGregor could be used in a voiceover capacity, perhaps to reach out to Rey in a time of need. Maybe he could even converse with the Force ghost voice of Mark Hamill as Luke Skywalker. It might even help set up what we'd see in Obi-Wan's spin-off movie.
For now, let's just accept this is nothing more than a wild rumor, but we'll keep our ear to the ground in case anything else comes up. Otherwise, Star Wars Episode 9 hits theaters December 20, 2019.