How The 'Avengers: Infinity War' Cast Found Out About The Film's Tragic Ending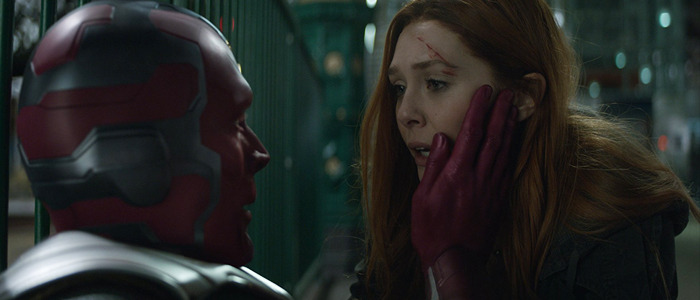 Your parents may have told you not to get into suspicious vans, but what if it was carrying all the secrets of the Marvel Cinematic Universe? That was the situation that the Avengers: Infinity War cast found themselves in on the day they were shooting the Avengers Infinity War ending.
In a story that sounds so far-fetched that it has to be true, the cast of Avengers: Infinity War revealed that they didn't even know the ending until the day they shot it. And we thought Marvel went over the top with keeping their secrets.
Spoilers for Avengers: Infinity War follow.
In a classic case of the Marvel secret-keeping machine working overtime,  Elizabeth Olsen and Paul Bettany revealed at Ace Comic-Con in Seattle this weekend that they were as in the dark about Avengers: Infinity War's notorious ending as fans were. Directors Joe and Anthony Russo were so tight-lipped about the ending that they didn't include the ending in the script — which we can probably blame Tom Holland for.
So on the day that they were meant to shoot the final scenes, the Russo brothers bundled the entire Infinity War cast into a van (which I'm going to imagine is unmarked for the aesthetic) and told them the ending. Olsen recounted (via ComicBookMovie):
I found out from the Russos exactly what was going to happen and it wasn't until we shot it on that day we learned what the ending was. They took us into a van – all of us – we were in a van with air conditioning because it was very hot and they told us how the movie was going to end and no one knew. And they were like 'Now we're shooting it, Go!' and we were like 'How are we supposed to interpret that?'
That sounds very stressful for a professional — but at least both Olsen and Bettany delivered a hell of a performance, giving us the most emotionally devastating moment of the movie. And they had just learned what was happening that day!
It's a far cry from the process that Tom Hiddleston went through when he learned about Loki's untimely demise at the beginning of Avengers: Infinity War. Hiddleston revealed at the same Ace Comic-Con (via ComicBook) that he had actually known about his death scene for two years.
"So, I've known about that scene for two years. I met with Marvel in May 2016, and they were actually telling me the story of Ragnarok with concept art and images. The Russos came in, and I introduced myself. So, all four of us sat down, and they said this is how Infinity War begins."
That means that through the entirety of shooting Thor: Ragnarok, he knew Loki was doomed to be killed by Thanos. It really lends an extra layer of tragedy to Hiddleston's performance in the light-hearted Marvel movie. And Hiddleston is happy that he got the two-year head start. "When I came to shoot the scene in Infinity War, I think it's very powerful he calls himself an Odinson, and that closes the whole journey of Loki and what he can do," he said. "It [Loki's death] set the stakes up emotionally. It takes the stakes up dramatically. You know that Thanos is someone who's more dangerous than anyone we've seen before."
And miraculously, the details of Loki's death didn't leak! So maybe Marvel doesn't have to jump through all those hoops and ladders to keep their plots a secret after all. Except when it comes to Tom Holland, especially since he "accidentally" revealed the title for the Spider-Man: Homecoming sequel over the weekend.